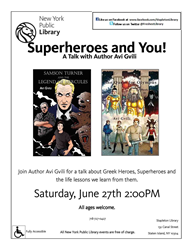 Kindness & Power in Superheroes & You!
Staten Island, NY (PRWEB) July 10, 2015
Why are superheroes so popular with young and old people alike? Avi Gvili spoke to young people ranging from age 8-15 about how present day superheroes and in Greek Mythology put together kindness and power, two qualities everyone is hoping to have within themselves.
Superheroes are the most valuable media properties in the world today, representing a market that is over one hundred billion dollars. People, young and old, flock to superhero movies and buy the accompanying merchandise. Batman, Superman, Spiderman are this century's mythology and represent for people of all ages a hope that power goes along with kindness.
Avi Gvili is the author of three books, including the popular Samson Turner & the Legend of Hercules
Boulevard Books is an educational publishing company for the new century. To schedule author events please call 917-825-0390 or email agvili(at)boulevardbooks(dot)org.