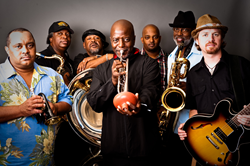 Fairfield, CT (PRWEB) July 08, 2015
The Fairfield Theatre Company is heating up this July and will get the Vibes Party started early as they welcome two of the best group's to come out of New Orleans to Fairfield. At 7:30 p.m. on Fri., July 24, The Dirty Dozen will take on StageOne for the local area's jazz-lovers entertainment, with Dr. Klaw taking over the next week on Wed., July 29.
Getting the night's festivities started will be one of the most dynamic bands to emerge out of New Orleans: The Dirty Dozen Brass Band (DDBB). In 1977, The Dirty Dozen Social and Pleasure Club in New Orleans began showcasing a traditional Crescent City brass band. It was a joining of two proud, but antiquated, traditions at the time. When black southerners could rarely afford life insurance, these clubs would provide proper funeral arrangements, and brass bands, early predecessors of jazz, would often follow the funeral procession playing somber dirges.
Once the family of the deceased was out of earshot, the band would burst into jubilant dance tunes as casual onlookers danced in the streets. By the late '70s, few of these establishments still existed. In honor of where they began, DDBB adopted the venue's name in honor of The Dirty Dozen Social and Pleasure Club.
Now 35 years later, this seven-piece band is a world-famous music machine, whose name is synonymous with genre-bending romps and high-octane performances. DDBB have revitalized the brass band in New Orleans and around the world, progressing from local parties, clubs, baseball games and festivals in their early years to touring nearly constantly in the U.S. and in more than 30 other countries on five continents.
Having been featured as guests on albums by artists including David Bowie, Elvis Costello, Dr. John, and the Black Crowes, The Dirty Dozen are even celebrated by The City of New Orleans, who have an official Dirty Dozen Brass Band Day, to celebrate their accomplishment.
Yet, to describe how DDBB has arrived at its 35th anniversary, trumpet player Gregory Davis employs a tried-and true New Orleans-centric analogy: "It ends up being like a pot of gumbo – you drop in a little okra, drop in a little shrimp, you drop in some crabs. Before you know it, you've mixed in all these different ingredients and you've got a beautiful soup. That was our approach to music early on and it still is today."
And boy do they still have it today! Baritone sax player Roger Lewis — who, like Davis, has been with the combo since its inception in the late '70s, echoes that sentiment.
"It's a big old musical gumbo, and that probably made the difference, separating us from other brass bands out of New Orleans," Lewis said. "It put a different twist on the music. We were not trying to change anything, we were just playing the music we wanted to play and not stay in one particular bag."
Coming now to StageOne, fans with an appetite for musicological adventure and a commitment to honor tradition should get ready as The Dirty Dozen brings this and so much more to the intimate venue in celebration of their 35th year, as well as the release of "Twenty Dozen", the septet's first studio release in six years.
The new album, cut at the Music Shed in New Orleans, reunites the band with producer Scott Billington, who helmed DDBB's first major-label release, "Voodoo", in 1989. It's a resolutely upbeat effort that seamlessly blends R&B, jazz, funk, Afro-Latino grooves, some Caribbean flavor, and even a Rihanna cover that reaches an exuberant peak with a medley of New Orleans staples, including a particularly high-spirited rendering of "When the Saints Go Marching In."
But, the Fairfield Theatre Company isn't done yet and will kick off the musical weekend of the Vibes Party a day early by welcoming the New York-based band by the way of New Orleans: Dr. Klaw. At 7:30 p.m. on Wed., July 29 at StageOne, Dr. Klaw will continue entertaining the jazz community in Fairfield.
A few years ago, New York funk musicians Adam Deitch (John Scofield, Lettuce, Break Science), Nigel Hall (Warren Haynes Band, Nth Power) and Eric Krasno (Soulive, Lettuce, Tredesci Trucks) were visiting Nawlins Jazz fest for some gigs. Guitarist Ian Neville, son of organist and vocalist Art Neville of the legendary Meters, suggested they do some small, late-night gigs around town with his fellow Dumpstaphunk compatriot: the incredible Nick Daniels. Upon witnessing Nick "Dr. Klaw" Daniels' gospel-influenced vocal skills and funk bass mastery, Nigel, Kraz, Deitch, and Neville knew that this group needed to be heard!
Hearing Nigel's and Nick's amazing vocal styles together over a bed of swampy New Orleans funk with a taste of N.Y. soul, are the main ingredients that make Dr. Klaw one of the premier funk and soul super groups today.
Having become a major part of the Royal Family lineups at Jazz Fest, Bear Creek and Jam Cruise, Dr. Klaw is hard at work making their debut album for Royal Family Records. With Nigel on the B3 organ and clavinet as well as vocals, Deitch throwing down tasty breakbeats, Kraz and Neville fitting funk guitar lines together like intricate puzzles and Nick's power housing vocals and bass styles, Dr. Klaw is like the aural equivalent of a fully-dressed oyster Po boy sandwich with spicy Cajun mustard and remoulade sauce and is exactly what the doctor ordered to help get the party started.
So if you're having withdrawals from this past year's Jazz Fest or just can't wait for the Vibes Party to start, join the Fairfield Theatre Company in welcoming these two iconic bands. It will have something for your mind, body, and soul, as The Dirty Dozen Brass Band and Dr. Klaw captivate you one way or another in a night that shouldn't be missed.
Dirty Dozen Brass Band
Date: Friday, July 24
Doors: 7:00 p.m.
Show: 7:30 p.m.
Venue: StageOne - 70 Sanford St., Fairfield, CT 06824
Tickets: $35; $3 Members Discount
Box Office: 203-259-1036 or reserve online at http://www.fairfieldtheatre.org
Dr. Klaw
Date: Wednesday, July 29
Doors: 7:00 p.m.
Show: 7:30 p.m.
Venue: StageOne - 70 Sanford St., Fairfield 06824
Tickets: $45 Advanced; $48 General Admission; $5 Members Discount
Box Office: 203-259-1036 or reserve online at http://www.fairfieldtheatre.org
About the company:
Fairfield Theatre Company is a highly-acclaimed non-profit performing arts organization located in the heart of downtown Fairfield, Connecticut. FTC presents nearly 250 performances and concerts each year featuring outstanding national talent on FTC's StageOne in Fairfield, The Klein Auditorium in Bridgeport, and the Norwalk Concert Hall in Norwalk. FTC's intimate 200-seat StageOne concert venue is widely recognized as being one of the best places to see a live performance in the region. FTC is dedicated to providing the highest-quality arts, live entertainment and educational experiences to the communities it serves.