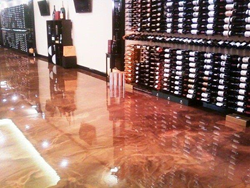 Lyndhurst, NJ (PRWEB) July 09, 2015
Sika Flooring is pleased to announce the release of its eye-catching Sikafloor Metallic FX floor system. This high-aesthetics, self-smoothing system allows for architecturally impactful designs that will generate stunning first impressions.
"Architects and designers are going to be thrilled with the introduction of our Metallic FX system," said Jay W. Thomas, Sika's Vice President of Marketing for Roofing and Flooring. "In the past, flooring proved to be a constraint on the creativity of their designs. Now, Metallic FX allows the floor to become a palette that opens the door for their artistic visions."
Sikafloor Metallic FX's multi-dimensional, pearlescent designs bring life to lobbies, retail areas, museums and other high visibility spaces. The system uses ultra-fine Sika Metallic Powders to deliver depth and dimension to public areas that had previously limited the overall design.
Metallic FX draws its exceptional aesthetics from Sika's Sikafloor 216, a two component, low odor, low VOC epoxy resin designed for decorative high-build coating applications. The field-blended Metallic Powder makes this unique system highly customizable and adaptable to a building's distinctive décor. With an array of 44 distinct colors, the possibilities are nearly limitless.
Because Metallic FX is a Sika brand floor, its durability has been aggressively tested both in the lab and in the field. The system delivers on the promise that its vibrant colors and sheen will last for years with very little maintenance and never any seams.
SIKA AG CORPORATE PROFILE
Sika AG, located in Baar, Switzerland, is a globally active specialty chemicals company. Sika supplies the building and construction industry as well as manufacturing industries (automotive, bus, truck, rail, solar and wind power plants, façades). Sika's product lines feature high‐quality concrete admixtures, specialty mortars, sealants and adhesives, damping and reinforcing materials, structural strengthening systems, industrial flooring, as well as roofing and waterproofing systems. Worldwide local presence in 80 countries and more than 16,895 employees link customers directly to Sika and guarantee the success of all partners. Sika generated annual sales of CHF 5.57 billion in 2014. For more information about Sika Corporation in the U.S., visit http://www.SikaFloorUSA.com.