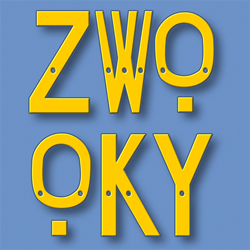 (PRWEB) July 16, 2015
"ZWOOKY" was featured on NewsWatch as part of its monthly AppWatch, which takes a look at the latest and coolest applications on the market for iOS, Android, and Windows. Joe Toohey, the host of AppWatch and technology expert, conducted the app review and shared with viewers how this app allows people to have conversation in complete anonymity.
As the digital world grows, so does people's ability to communicate to others. But it's a bit of a double-edged sword as people tend to also lose anonymity. Well, ZWOOKY is a new app that uses a very simple idea to solve this problem.
Once a user registers with ZWOOKY, a random code is assigned to them. This code is now their anonymous way into the ZWOOKY world. It replaces their e-mail and phone number when they want to want to communicate with someone online but don't want to give out your personal information.
For example, let's say someone meets a stranger that blossoms into a great conversation. Naturally they might want to continue that relationship but they don't really know them yet so giving out their phone number or e-mail may not be the safest option.
Once they log in to ZWOOKY, they can then message the user without receiving any of their personal information. After that it's up to the user if they want to reveal any more about themselves. It's not so much a social media network as a first-contact solution.
Users can even use their ZWOOKY code on your luggage or personal items so anyone who finds them can contact you. People can get ZWOOKY for free on their iOS or Android device by going to their app store.
To learn more, visit http://www.Zwooky.com today.
About NewsWatch
NewsWatch is a weekly 30-minute consumer oriented television show that airs on the Discovery Channel and ION Network. NewsWatch regularly features top technology products and services, mobile applications for iOS, Android, and Windows devices, unique and beautiful travel destinations around the world, health and medical tips, and entertainment interviews on the show. NewsWatch airs on the Discovery Channel at 7:00 – 7:30 AM ET/PT.
NewsWatch is located in the greater Washington, DC area and has been on air for over 25 years. For more information or to watch the most recent episode, visit http://newswatchtv.com/appwatch.html.