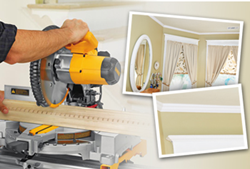 Crown molding is an inexpensive approach to adding beautiful detail to a home.
PARKERSBURG, W. VA. (PRWEB) July 08, 2015
Crown molding, long a popular element in upscale home décor for walls, windows, doors, and cabinets, is gaining popularity as homeowners use social media websites for inspiration and to share ideas. Woodcraft offers tips for tools and materials a homeowner will need for crown molding projects.
Although crown molding is generally identified as trim for the area where a wall meets the ceiling, molding is used for many other home décor applications. It creates an appealing visual element when used at chair height along a wall, sometimes with thin vertical pieces attached to accent a wider area. Molding also serves as an attractive window cornice or as a frame for a wall-hung flat screen television or vertical mirror. The possibilities are only limited by the homeowner's imagination and finances.
"Crown molding is an inexpensive approach to adding beautiful detail to a home," Woodcraft national power tool sales manager Andrew Bondi said, "and Woodcraft is the go-to source for tools and supplies for molding and trim projects." Bondi speaks from experience, having recently installed crown molding throughout his house.
Before lifting the first piece of molding, beginners (and maybe others) will want to do some research about molding and installation techniques and tips. "Cutting and Installing Crown Molding," a DVD by Jim Heavey, and "Crown Molding & Trim: Install It Like a Pro!," a book by Wayne Drake are good resources.
A miter saw, like DeWalt's 10" Single Bevel Miter Saw, is essential for cutting crown molding joints. To make the process easier, Woodcraft recommends using a cutting jig with the miter saw – either the General Tools EZ Pro Crown King Crown Molding Jig or the Kreg Crown-Pro Miter Saw Guide that features a bonus measurement transfer angle finder. If your project involves a coped cut, Woodcraft stocks Eclipse Coping Saws and Gröz Coping Saw Frames.
"Remember to protect your eyes. Pick up a pair of SAS Safety Glasses before you begin your project," product manager Jessica Douglas said. "The lightweight glasses can be worn alone or over eyeglasses."
For all the marking and measuring necessary to prepare the molding, you will find the multipurpose Kreg Multi-Mark Marking Gauge indispensable. To fill any small gaps, Woodcraft recommends Famowood Wood Filler, along with Norton 5X Small Area Sanding Sponges for smoothing filled holes.
Once the molding is cut and ready for fastening, use the Grex 18-gauge Green Buddy Nailer that offers precision control and both sequential and contact trigger applications.
"If you are going to back your molding with an adhesive prior to nailing, Titebond's No Run No Drip Wood Glue for molding and trim is a great product to use," Woodcraft senior product manager Peter Collins said, "especially if you are going to use a headless pinner to install trim."
Painting crown molding can be simple – blending in with the wall or ceiling color – or new color can be introduced to match furnishings or accent the overall décor. "General Finishes Milk Paint and Old Fashioned Milk Paint, both water-based, are available in many colors and can be mixed to create an extensive palette of custom colors," product manager Kent Harpool said. "Both brands also offer related products to produce special decorative effects such as antiquing and distressing."
Harpool recommends Redtree Bristle Brushes or Foam Brushes for applying paint. Use Microfiber Tack Cloths to remove sanding dust before applying paint or after distressing.
For more information about Woodcraft, please contact the store nearest you, visit http://www.woodcraft.com or call (800) 535-4482. To learn about Woodcraft franchise opportunities, visit http://www.woodcraftfranchise.com or email woodcraftfranchise(at)woodcraft.com.