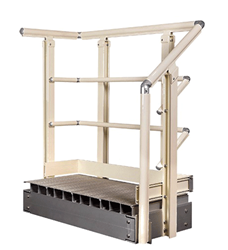 The new fitting met all of Aluminum Offshore's performance standards and was the most cost effective solution considered.
Cincinnati, OH (PRWEB) July 08, 2015
Aluminum Offshore Pte Ltd is a Singapore based manufacturer of helidecks and other structures used by the off shore petroleum industry. The company recently chose Hollaender Manufacturing to supply the aluminum adjustable fittings it needed to complete a new railing system to be installed at a structure in Norway's North Sea. Aluminum Offshore needed an elbow fitting for the project that could be adjusted to any angle and accommodate two different rail sizes.
Hollaender had recently developed the 130AE series of adjustable elbows constructed completely from 6063-T6 aluminum alloy. The new fitting met all of Aluminum Offshore's performance standards and was the most cost effective solution considered.
The Hollaender 130AE Series fittings are available in 1 inch IPS, 1 ¼ inch IPS and 1 ½ inch IPS. They are an ideal solution in applications where handrail must be connected at corners and transitions, and where angles are variable. Aluminum Offshore used the 130AE-8 to connect 1 ½ inch IPS top rails at transitions and the 130AE-6 to connect smaller 1 inch IPS mid-rails.
According to Mr. Ron Crebo, Vice President of Sales and Marketing at Hollaender, "The fact Aluminum Offshore is in close proximity to low cost manufacturing alternatives in countries including Taiwan, China and Malaysia, yet chose Hollaender for this project, is a testament to our engineering ingenuity, product quality and the cost effectiveness of our fittings. We appreciate the trust Aluminum Offshore put in our team of application specialists."
About Hollaender Manufacturing
Hollaender is a manufacturer and marketer of aluminum structural pipe fittings, aluminum pipe, as well as final assemblies that use these components. Hollaender is also a US market leader in the design and manufacture of complete architectural railing systems, often called "Decorative Metal Railing Systems."
Hollaender components are used in the design and build of handrail, guardrail and safety rail systems as well as a wide variety of unique modular pipe and fitting based structures for commercial, residential, public works and industrial applications, as well for retail store fixtures and other structural applications. These components and systems are marketed under the trademarked brands Speed-Rail® and Interna-Rail®. Hollaender also offers consultation, design, and project management services.