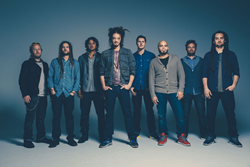 Fairfield, CT (PRWEB) July 08, 2015
Fairfield Theatre Company will help to celebrate summer by welcoming the Grammy-nominated Latin, rock, and reggae-infused, Virginia-based band, SOJA to the area. At 8 p.m. on July 16 at The Klein Auditorium, SOJA will take the stage and explore a diverse genre of music, entertaining concert-goers of all kinds.
Originally formed by a group of friends while still in middle school, SOJA has since built a massive, dedicated fanbase around the world. In the past few years following, SOJA has sold more than 200,000 albums, has more than 90 million YouTube views, generated nearly 4 million Facebook fans, and has headlined shows in more than 20 countries, as well as having toured with such iconic musical acts like Dave Matthews Band, Incubus, and 311.
And if that wasn't enough, SOJA has also appeared at major music festivals including Jamming Festival in Bogota, Colombia; Festival Garorock in Marmande, France; Festival de Alegra in Alegra, Brazil; and Bonnaroo in Manchester, Tenn. They attract an almost Grateful Dead-like international fan base along the way, with caravans of diehards following them from city to city.
"I want to speak for people who don't have microphones," Jacob Hemphill, the lead singer of SOJA, said. "Our goal as a band is to stick up for the human race. We see the world and we try to make it better in the limited time we have here."
This philosophy behind SOJA's music is a simple statement that has driven the D.C. area band, whose blend of reggae, go-go, D.C. hardcore, Latin, rock and hip-hop has clearly had an impact for any listener new or old.
For Hemphill — who pens the lyrics, chords and melody — each song starts with an experience: meeting someone, reading something, experiencing something that seems pertinent to the human condition.
Coming to The Klein Auditorium in support of their latest album, Amid The Noise and Haste, Hemphill suggests, "all of life's problems, and all of life's answers are within us. We've been conditioned to accumulate, compete and break others down around ourselves — not inherent to the human condition, but rather taught. Those things can be untaught. The real us is in there, somewhere."
All of this is translated into short, sweet packages of music.
"I put words in my songs that I believe to be true. The point of the album is reconnecting people to the power inside themselves, getting them to fall back in love with life again," Hemphill said. "Look around, take a deep breath. All the answers are there."
Produced by Supa Dups (Bruno Mars, Eminem, Rihanna, John Legend) and recorded at Circle House Studios in Miami and Lion & Fox Studios in Washington D.C., Amid The Noise and Haste features an all-star cast of guest musicians including Damian "Jr. Gong" Marley, Michael Franti, Nahko, Collie Buddz, J Boog and Anuhea.
"We wanted to bring together people who would help demonstrate each song," Hemphill said. "We wanted people who could either relate to or convey the message. The whole album is about the human race relating to itself and connecting with itself."
Fans and newcomers get ready as SOJA brings their incredible live show right to the heart of Bridgeport, thanks to the Fairfield Theatre Company. This is a performance that can be described as an explosion of energy and positivity, and it will have those in attendance looking inside themselves and appreciating what truly makes them happy.
SOJA Live Performance
Date: Thursday, July 16th
Doors: 7:00 p.m.
Show: 7:30 p.m.
Venue: The Klein Auditorium - 910 Fairfield Ave, Bridgeport, CT 06605
Tickets: $22 Advance; $30 Day of Show; Member Discount: N/A
Box Office: 203-259-1036 or reserve online at http://www.fairfieldtheatre.org
About the company:
Fairfield Theatre Company is a highly-acclaimed non-profit performing arts organization located in the heart of downtown Fairfield, Connecticut. FTC presents nearly 250 performances and concerts each year featuring outstanding national talent on FTC's StageOne in Fairfield, The Klein Auditorium in Bridgeport, and the Norwalk Concert Hall in Norwalk. FTC's intimate 200-seat StageOne concert venue is widely recognized as being one of the best places to see a live performance in the region. FTC is dedicated to providing the highest-quality arts, live entertainment and educational experiences to the communities it serves.