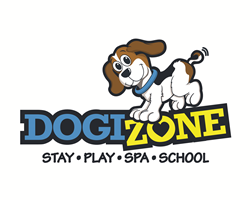 When revising our business model, we wanted to convey the all-encompassing nature of our company
Rockville, MD (PRWEB) July 09, 2015
Canine Obedience Unlimited, a Maryland-based dog training company, has officially changed its name to DogiZone. Owned and operated by acclaimed trainer, Andrew Fraser, DogiZone will maintain the absolute adoration of canine training while introducing new services courtesy of a modernized facility and website.
"When revising our business model, we wanted to convey the all-encompassing nature of our company," said Fraser. "Our state-of-the-art and much larger facility will allow our services to expand to include day care and overnight lodging, bathing and fitness classes, as well as a school for individuals to become professional trainers themselves."
The core of DogiZone will be the all-new headquarters conveniently located in Montgomery County. The 12,000 square foot building is tied into an expansive outdoor space to make DogiZone one of the largest indoor/outdoor complexes in the county. When 100 percent operational, the facility will feature brand-new luxury kennels, and rubber floors for lodging and day care both inside and out – the latest services for the brand – in addition to the proven obedience and manners training customers have come to expect from Fraser and his seasoned staff. DogiZone will also begin offering dedicated training seminars for people interested in becoming dog trainers themselves.
"Ever since I was a kid, I've loved dogs and training them has been my passion for more than a decade," said Fraser. "With DogiZone's accommodations, complete with the spacious outdoor area, we can begin to share that passion with others so that they can have a safer, happier and healthier dog."
As a seasoned professional, Fraser trained with the National K-9 School for Dog Trainers, No Limitations Dog Trainers School in addition to working with a veterinarian, national pet supply and pet containment companies. Recognized as a Canine Good Citizen Evaluator by the American Kennel Club, he is also a member of the International Association of Canine Professionals and the Association of Pet Dog Trainers.
DogiZone is expected to be completely operational later this summer at the facility and additional services to take place soon after. Fraser and his team are continuing to practice training to serve clients from Maryland, Washington D.C, Virginia, West Virginia, Pennsylvania, and Delaware.
To find out more, please visit DogiZone.com.
About DogiZone
Founded in 2005 as Canine Obedience Unlimited by Andrew Fraser, DogiZone is Maryland's premiere dog training and lodging provider. Based in Rockville, the company serves Montgomery County and the surrounding areas and provides obedience training and manners, agility and competition training for all breeds and ages. In addition to training, DogiZone features lodging and day care services as well as specialized training seminars for individuals interested in becoming professional dog trainers themselves. To find out more, visit http://www.dogizone.com/
For additional information, contact:
Heather Ripley
Ripley PR
hripley (at) ripleypr (dot) com
865-977-1973