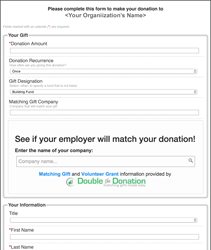 The integration enables nonprofits to integrate matching gift information into DonorPro with just a few mouse clicks and zero technical knowledge.
Pittsburgh, PA (PRWEB) July 09, 2015
DonorPro, the premier fundraising software company in the nonprofit sector, and Double the Donation, the leader in online matching gift services for nonprofits are excited to announce a new integration to enable mutual clients to multiply their donation revenue without any additional effort.
Double the Donation's matching gifts service allows donors to immediately search and access their employers' corporate matching gift guidelines on any online donation page. This unique partnership will enable nonprofit organizations to easily integrate Double the Donation's plug-in service with their online donation pages.
"With no extra effort on the part of our nonprofit clients, they can enjoy a dramatic increase in matching gift donations and trust that all this new data will integrate seamlessly into their DonorPro database," said Donna J. Myers, President of DonorPro. "Of all the partnerships that we've formed over the years, our integration with Double the Donation has the potential to directly improve our clients' fundraising ROI more than any other."
DonorPro and Double the Donation will embark on joint marketing activities, targeting mutual clients and prospective clients looking to ignite their fundraising with matching gifts and powerful donor CRM capabilities.
Double the Donation President Adam Weinger added, "We're thrilled to partner with DonorPro. Donna and her team did a fantastic job of building the integration that enables nonprofits to integrate matching gift information into DonorPro with just a few mouse clicks and zero technical knowledge."
To kick off this new partnership, DonorPro and Double the Donation are inviting all growth-focused nonprofit organizations to attend a free integration launch webinar on July 15 at 2PM Eastern.
For more information on DonorPro's fundraising CRM software, visit DonorPro.com or contact Ben Lion, VP of Sales at 866.935.8281. For more information on Double the Donation, visit DoubleTheDonation.com or contact Adam Weinger, President at 407.376.9800.
About DonorPro
DonorPro provides award-winning fundraising and donor management software for nonprofits that helps them reach more donors, raise more money, and operate more efficiently. Whether you are an established organization seeking to better cultivate your donor base or an emerging team looking to turn ideas into impact, DonorPro's nonprofit software gives you the tools to Power Your Purpose™. Headquartered in Wexford, PA, DonorPro partners with cause-based organizations worldwide. For more information, visit http://www.donorpro.com.
About Double the Donation
Double the Donation is the leading provider of employee matching gift and volunteer grant tools for nonprofits. Double the Donation helps nonprofits raise more money from employee matching gift programs by providing easy access to the company specific matching gift forms, guidelines, and instructions that a nonprofit's donors need. Headquartered in Atlanta, Double the Donation works with clients across the US, Canada, and Europe. For more information, visit https://doublethedonation.com.
Media Contacts
Dan Quirk for DonorPro | dquirk(at)donorpro(dot)com | 866.935.8281
Adam Weinger for Double the Donation | adam(at)doublethedonation(dot)com | 407.376.9800