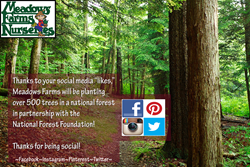 "This partnership is a great way to demonstrate our dedication to the environment. We were able to successfully draw attention to an important issue through social media in an environmentally impactful way." -Jay Meadows
(PRWEB) July 09, 2015
Meadows Farms has partnered with the National Forest Foundation to plant over 500 trees in a National Forest. During the spring 2015 season, any new follower on their various social media pages (Facebook, Twitter, Instagram, & Pinterest) was guaranteed a tree planted in their honor in a National Forest.
"This partnership is a great way to demonstrate our dedication to the environment. We were able to successfully draw attention to an important issue through social media, which engages a younger generation online, and does it in an environmentally impactful way," says Jay Meadows, President of Meadows Farms.
The National Forest Foundation works with the U.S. Forest Service to identify National Forests where severe wildfire, insects, disease, or other natural events have caused a significant loss of forest cover. There is an estimated 2 million acres of National Forests that are in urgent need of reforestation.
Healthy and intact National Forests are critical in providing important services that countless people depend on. They play a key role in capturing, filtering, and supplying water for downstream use by millions of Americans. By consuming carbon dioxide and emitting oxygen, trees also keep the air clean and offer long-term storage of the greenhouse gas carbon dioxide. The expansive National Forest System also provides habitats for thousands of animals, plants, and wildlife species, including hundreds of threatened and endangered species.
About Meadows Farms Inc.
Meadows Farms Inc., is one of the largest independently owned nursery and garden centers in the country. They have 22 retail locations employing more than 750 employees and a landscape facility housing 39 designers and sending out more than 70 crews a day. A grounds maintenance division also falls under the Meadows Farms umbrella. For more information, visit http://www.meadowsfarms.com.