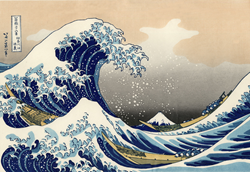 (PRWEB) July 13, 2015
"Japanese Art" was featured on NewsWatch as part of its monthly Tech Report, which features the latest and coolest technology products available to consumers. Amanda Forstrom, a technology expert and special reporter for NewsWatch, conducted the review and shared with viewers how this beautifully crafted iPhone cases were designed by famous artist Yoshitaka Amano.
Yoshitaka Amano is known for his elaborate illustrations and has contributed major animations to works like Speed Racer, Final Fantasy and Neil Gaiman's Sandman: The Dream Hunters. The company, Japanese Art One has taken various illustrations of Mr. Amano's and placed them onto iPhone cases so smartphones can look like pieces of art too.
The cases fit iPhones from the 5 up to the 6 Plus. With 7 types of cases in all, these are sure to be collector's items. They have a great deal right now where people can buy 6 cases and get one free for $500.
Japanese Art One is also holding an auction at the end of the year of a beautiful and original statue by Yoshitaka. To be eligible to participate in the auction, just order Japanese Art One's panther catalogue, which is $100.
To learn more, visit http://www.japanese-art1.com today.
About NewsWatch
NewsWatch is a weekly 30-minute consumer oriented television show that airs on the Discovery Channel and ION Network. NewsWatch regularly features top technology products and services, mobile applications for iOS, Android, and Windows devices, unique and beautiful travel destinations around the world, health and medical tips, and entertainment interviews on the show. NewsWatch airs on the Discovery Channel at 7:00 – 7:30 AM ET/PT.
NewsWatch is located in the greater Washington, DC area and has been on air for over 25 years. For more information or to watch the most recent episode, visit http://newswatchtv.com/tech-report.html.