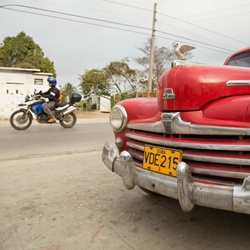 "Cuba deserves a chance to be understood. Riding a motorcycle here has given me that opportunity" - B. Petersen, MotoDiscovery riding guest, 2015
Bulverde, Texas (PRWEB) July 14, 2015
MotoDiscovery, a leading facilitator of motorcycle tours worldwide since 1981, returns for a fourth season to the island of Cuba presenting a fresh 7 day itinerary with enhanced services. Functioning under license from the US Office of Foreign Assets Control permitting legal travel for US citizens to Cuba, the new seven day tour features a full schedule of exciting people to people activities with travels centering on experiencing the capital city of Havana and the western province of Piñar del Rio.
According to MotoDiscovery founder, Skip Mascorro, this new itinerary better addresses the need to provide two wheeling travel for those who have limited time yet desire an authentic Cuban experience. "The new seven day tour has a more moderate pace with emphasis on a smaller geographic region. We felt the stunning province of Piñar del Rio deserved more attention and it is a people to people rich environment often overlooked by the tourist masses. This is how we like to experience a country."
Piñar del Rio is well known for stunning landscapes accented by towering monoliths called mogotes rising up from the Valley of Viñales, the perfect scenery that compliments the joys of travel by motorcycle. Other highlights include educational introductions to the history and growing of tobacco with visits to prominent plantations such as that of Alejandro Robaina where generations have passionately nurtured plants that provide leaves for the finest cigars in the world. Of course no Cuba experience would be complete without ample time to explore the capital city of Havana where MotoDiscovery visits native markets, attends lectures by prominent architects and historians and learns of its Spanish conquest and colonization
In addition to the new seven day Cuba tour, MotoDiscovery has a full schedule of dates and more comprehensive 12 and 13 day itineraries, running November through May, routing to the eastern edges of the island. Originating in Miami, round trip airfare to Cuba is included. Participants have the choice of the very popular and reliable Suzuki 650 or 1000 V-strom, as well as Harley-Davidson motorcycles, to ride the lightly traveled roads of the tropical island.
For More Information:
http://www.motodiscovery.com/Motorcycle-Tours-in-Cuba
Skip Mascorro/ Founder
Phone (830) 438-7744
Toll Free USA & CANADA 1(800) 233-0564
http://www.motodiscovery.com