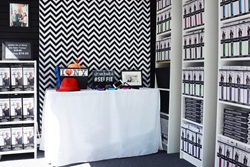 New York, NY (PRWEB) July 09, 2015
SelfieOnAStick.com, the leading selfie stick provider in the US and internationally, will be a sponsor of the WIRED Café at the 45th Annual Comic-Con International in San Diego, California. SelfieOnAStick.com will partner with the WIRED Café to allow guests – including celebrities, executives, and VIP's alike – the chance to enjoy (without threat or potential danger to themselves and others) the many uses of a #SelfieOnAStick.
Every July, the sensory overload known as Comic-Con hits San Diego for a collision of the film, television, and comics worlds. A-list celebs, entertainment industry professionals, and media moguls turn out to discover what's new in the entertainment industry - or just to unleash their inner superhero. In 2015, the WIRED Café will once again offer an oasis to the who's who of the Comic-Con-world. The annual party at the Omni Hotel Palm Terrace, offers a chic haven for celebs, press, and VIPs in town for Comic-Con. More than 1,000 invitation-only guests will receive exclusive access to the Café offering cuisine and cocktails, gadget labs, interactive demos, branded activities, and more.
Invited guests will enjoy personal and hassle-free moments at the WIRED Café, away from the meretricious excitement of the convention, while taking #PerfectSelfWe's that capture and chronicle those moments for posterity.
One of the fastest growing companies in the last year, SelfieOnAStick.com is today considered the premier brand in the imaging and selfie-taking market. The company's popularity is such that it has become the go-to brand for celebrities and consumers alike. Notable celebrities including Gigi Hadid, Kendall Jenner, Ansel Elgort, Justin Bieber, and more have been seen frolicking with a #SelfieOnAStick. SelfieOnAStick.com has been featured on media outlets including Fox 5 NY, Vogue.com, Good Morning America, New York Post, The Steve Harvey Show, Discovery Channel, NPR and many others. As the only #SelfieOnAStick brand at the WIRED Café, SelfieOnAStick.com again continues to be recognized as a brand that produces durable, safe, and dependable models for any occasion; even around one of the largest entertainment conventions in the US - Comic-Con International: San Diego.
Venue:
SelfieOnAStick.com at the WIRED Café
Comic-Con International: San Diego 2015
Date:
July 9th 2015
About SelfieOnAStick.com
Founded in New York City, SelfieOnAStick.com selfie sticks are quickly catching on as the hottest accessory for taking the perfect selfie. Selfie On A Stick has received attention from national media including Good Morning America, CNN and The Steve Harvey Show, and can be found in national retailers coast to coast and on SelfieOnAStick.com, and now at the dedicated SelfieOnAStick.com Store and Photo Booth in Times Square, NYC. All Selfie On A Stick selfie stick models can be customized to suit personal and professional taste.SelfieOnAStick.com encourages all customers to follow Selfie On A stick on Instagram and Twitter @SelfieOnAStick and Facebook @SelfieOnAStickOfficial and to post their selfies and selfWe's using hashtags #SelfieOnAStick #PerfectSelfie and #SelfWe.
Contact:
PR: Seventh House
Contact: Terry Doe / terry(at)seventhhousepr(dot)com
Samantha Zink / Samantha(at)seventhhousepr(dot)com