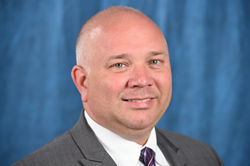 He is committed to creating inclusive environments and working collaboratively alongside academic colleagues to enhance student learning in both the transfer and workforce arenas.
Salt Lake City, Utah (PRWEB) July 08, 2015
When Charles Lepper flew in to Salt Lake City from Virginia to interview for the job of Salt Lake Community College vice president of student affairs, he asked a cab driver on the way to his hotel about her impression of SLCC. "She said, 'Oh, it's an institution on the move,'" Lepper recalled her saying. "That stuck with me."
The cab driver's response is reflective of what drew Lepper to the job, which he officially started July 1. While VP of student affairs at Tidewater Community College in southeastern Virginia, Lepper said he was attracted to SLCC by its "laser" focus on student success and completion and its desire to be the "premier" community college in the nation. "That was something I really wanted to be a part of," he said at the time. He also had a colleague tell him, "'There's a shortlist I keep of places I'd like to work at one day, and that's one of them.'"
SLCC President Deneece G. Huftalin said Lepper brings a "wealth" of experience in working at large, "complex" community colleges, where he led initiatives to strengthen student access and success. "He is committed to creating inclusive environments and working collaboratively alongside academic colleagues to enhance student learning in both the transfer and workforce arenas," Huftalin said.
Lepper said he plans to focus on continuing efforts at SLCC to foster an environment in which to learn, work and play where all people feel "appreciated, respected and accepted" and where "all voices are heard and their uniqueness is appreciated and recognized." In the short time he has lived in the community SLCC serves, Lepper said he's been treated with warmth and kindness. "I can't think of a friendlier community that I've been welcomed into," he said. The impressions Lepper has heard, on a national scale and at the local level, from the cab driver to his new barber, whose chairs in the shop came from SLCC's retired barber program, all point to a community college he says is highly regarded among its peers and valued and very much visible and a source of pride in the community at large.
Prior to Tidewater, Lepper was assistant vice president for student development at Ivy Tech Community College, an institution in Indiana with 23 campuses serving 200,000 students. Lepper, a first-generation college student, started his own post-secondary career at Ball State University. "Because of the mentoring I received and the people who cared about my success, it led me to where I am today," he said. Lepper went on to earn a master's degree from Grand Valley State University and a doctorate from Indiana State University.
Lepper's heritage is a quasi coming full circle that started with his great, great grandparents' role in the early days of establishing the revered Pine Mountain Settlement School in southeastern Kentucky. "It's a fascinating story, and it's one of the things I'm most proud of in my heritage," he said. "In many ways, I kind of feel like I'm continuing their legacy by working at a community college."
Salt Lake Community College is an accredited, student-focused, urban college meeting the diverse needs of the Salt Lake community. Home to more than 60,000 students each year, the College is Utah's leading provider of workforce development programs. SLCC is also the largest supplier of transfer students to Utah's four-year institutions and a perennial Top 10 college nationally for total associate degrees awarded. The College is the sole provider of applied technology courses in the Salt Lake area, with multiple locations, an eCampus, and nearly 1,000 continuing education sites located throughout the Salt Lake Valley. Personal attention from an excellent faculty is paramount at the College, which maintains an average class size of 20.