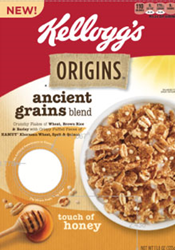 Big Sandy, MT (PRWEB) July 08, 2015
Kamut International is excited to announce that KAMUT® khorasan wheat is a featured ingredient in the new Kellogg's Origins™ Ancient Grains Blend cereal. With ancient grains projected to be a top nutritional trend this year, and KAMUT® wheat being listed as one of the top 50 foods by Time magazine in March, it's no surprise that Kellogg's has incorporated ancient grains, and KAMUT® in particular, into their products.
Kellogg's Origins™ Ancient Grains Blend cereal was developed in response to the growing consumer demand for simple foods prepared with recognizable ingredients, and is an ideal breakfast option for adults and children, as it combines nutritional value with delicious taste. The cereal is made with crunchy flakes of wheat, brown rice and barley, KAMUT® khorasan wheat puffs, spelt and quinoa. Lightly sweetened with a touch of honey, Kellogg's Origins™ contains no artificial sweeteners, artificial flavors or hydrogenated oils. Each serving is packed with 3g of fiber, and 21g of whole grains.
KAMUT® wheat is an organic, non-GMO ancient grain that has never been modified or altered in any way. It is high in fiber, protein and lipids, and offers higher amounts of nutrients compared to modern wheat, including a high content of antioxidants. It has been found to reduce inflammation and improve conditions of those suffering from IBS (irritable bowl syndrome) and heart disease. In fact, a study recently published in the journal Nutrients revealed that a KAMUT® khorasan wheat-based replacement diet actually improves the risk profile of patients with acute coronary syndrome. A previous study in the European Journal of Clinical Nutrition found that a KAMUT® khorasan wheat-based replacement diet could potentially reduce the risk of developing cardiovascular disease in healthy people. And a third study in the British Journal of Nutrition showed significant reduction in symptoms associated with IBS. In all three of these published reports, KAMUT® products were compared to modern wheat products in double blind crossover studies with human volunteers.
"We're seeing increased consumer awareness and demand for ancient grains because of their nutritional value and health benefits, and more brands are starting to take note," said Bob Quinn, President & Founder of Kamut International. "We're thrilled that such a well known brand like Kellogg's has chosen KAMUT® wheat as an ingredient in one of their products."
Kellogg's Origins™ Ancient Grains Blend cereal is available now at retailers nationwide in the U.S. for $4.11 per box.
KAMUT® wheat can be found in over 2,000 products throughout the world and here in America in leading brands like Bob's Red Mill, Nature's Path and Eden Foods. Last year General Mills launched Cheerios + Ancient Grains made with KAMUT® Wheat.
For more information on KAMUT® khorasan wheat, please visit the Kamut International website at http://www.kamut.com.
About KAMUT® Brand Khorasan Wheat
The mission of Kamut International is to promote organic agriculture and support organic farmers, to increase diversity of crops and diets, and to protect the heritage of a high quality, delicious ancient grain for the benefit of this and future generations. KAMUT® is a trademark of Kamut International, which guarantees high quality standards that are verified by tests from every field.