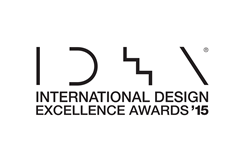 That collective knowledge exists within IDSA is kind of like a living treasure,
Herndon, VA (PRWEB) July 09, 2015
From lifesaving medical devices to the latest in accessible and environmental design; from land, sea and air transportation to the hottest new technologies—the 2015 winners of one of the world's most prestigious design competitions have been announced by the Industrial Designers Society of America (IDSA)'s International Design Excellence Awards (IDEA). See the winners at http://www.idsa.org/awards/idea/preview.
More than 1,700 projects from around the globe entered IDEA, as the competition marks its 35th year and IDSA celebrates its 50th anniversary in 2015. And for the first time, which entries won Gold and which won Silver won't be revealed until August 22—when the 2015 IDSA International Conference culminates in grand style with the IDEA Ceremony and the Samsung-sponsored, IDEA Gala at Benaroya Hall in Seattle, WA.
The IDEA Jury, led by Chair Matthew Marzynski, IDSA, met at The Henry Ford Museum in Dearborn, MI to judge the 621 IDEA finalists. The result—28 Gold, 53 Silver and 83 Bronze awards.
In a new video, Marzynski sees IDEA as history in the making. "When we look at a design, we're not just looking at what's trendy or fashionable at the moment. We have the context of that history of that long line of designers that came before us…. That collective knowledge exists within IDSA is kind of like a living treasure."
In 20 categories, there were professional and student entries from the United States and almost three dozen other countries—Australia to Austria; Estonia to Iran; and Serbia to Somalia.
New IDSA Board of Directors Chair John Barratt—a former IDEA Jury Chair—calls the competition "the authority on design" and says IDEA jurying is "the most rigorous and thoughtful" in the world.
Follow the excitement leading to the big reveal on August 22 on Twitter @IDSA #IDSAIDEA—and to the International Conference from August 19 to 22 on #IDSASeattle15