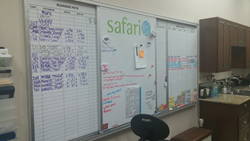 Garner said, "The boards and systems and other [processes we've implemented] – everyone says 'you can't do that, you can't run five rooms with one doctor' - but we can in a very visual way."
Macedon, NY (PRWEB) July 09, 2015
At the Safari Animal Care Center in Houston, Texas, internationally known veterinarian Dr. Steven Garner, with his exotic animals and furry things that bite runs his clinic a little bit differently. His 1.5 doctor clinic is the only one in Houston that treats exotic animals and is selling six times the average 1.5-doctor veterinary clinic. Garner's practice is about building processes and he recently began managing his grooming, boarding and veterinary services clinic using whiteboard systems.
Most medical offices have clipboards and flags to keep track of patient information, but for Garner that system did not clearly show the status of each patient. After opening a new practice, he implemented a whiteboard system to keep track of the client's veterinary visit and grooming information.
For the veterinary visit, Dr. Garner has two systems for keeping track of the visit and the problem the animal is having. To keep track of each visit, he has placed customized health maps on each of the 5 exam room doors to indicate the reason for the animal's visit, the six-step process of the visit and reference information for staff use. On the problem tracker whiteboard system, problems are recorded for every animal in six stages to keep track of when the client was notified of the animal's problem and what they decided to do about it.
"[The custom printed health map] prompts the staff members because we do treat a lot of exotic animals, if they don't remember the vaccines for a specific animal, it is printed on the board," said Garner. "The board is like a mind map for questions they might have for in and out of the health room."
The whiteboard has features such as a hexagon, showing the different stages of the visit that the assistant, the vet technician and veterinarian follow when treating an animal. When a staff member finishes a step, a magnet is moved to the next step of the process, notifying staff that the animal is ready for the next step of the visit.
"These boards allow the staff to communicate without having to find the staff member and ask what's going in a particular room," said Garner. "Monitoring where each client is in the process by using the board allows the staff member to leave the room and continue with another job."
For his grooming whiteboard system he uses t-cards to keep track of grooming history, making it easier for him and the client to remember what the animal has been groomed like in the past.
"We are about building processes – we have a 1.5 doctor clinic and our sales are six times what the average clinic is for a 1.5 doctor veterinary center," said Garner. "The boards and systems and other [processes we've implemented] – everyone says 'you can't do that, you can't run five rooms with one doctor' – but we can in a very visual way. A lot of the system is a combination of the whiteboard markers, magnets and the board itself that makes it work."
Magnatag Visible Systems works with customers on a regular basis to implement whiteboard systems into conference rooms, medical offices, manufacturing floors and more. To find out more about these systems, please visit http://www.magnatag.com or call a Visible Systems Specialist at 1-800-624-4154.
News Summary: Exotic veterinary hospital in Houston developed a communication system for its office using Magnatag whiteboard systems.
Magnatag Visible Systems designs, manufactures and direct-markets over 2,300 magnetic printed whiteboard kits, calendar planners, maps, custom boards, WhiteWalls, RotoCube Bulletin Towers, magnets, whiteboard accessories and other information display systems for industry, hospitals, schools, business and government. Call a Visible Systems Specialist at 800-624-4154 or visit their website at http://www.magnatag.com.
Safari Animal Care Centers features a highly trained, caring staff and state of the art equipment to provide "pet care with a difference." Safari is a one stop destination for pet's needs including medical services, boarding and grooming. It is the only veterinary clinic in Houston, TX that cares for exotic animals. For more information about Sarah Animal Care Centers, visit http://www.safarivet.com.