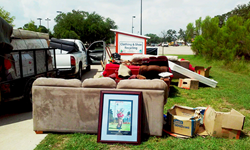 Bulky waste dumping is not just unsightly it is illegal and affects the charities that benefit from clothing donation bins. A good rule of thumb is that if it does not fit in the recycler it doesn't belong there.
San Antonio, TX (PRWEB) July 09, 2015
If you think dropping off your lumpy old sofa at the nearest parking lot is a quick, easy fix, then think again. American Textile Recycling Service (ATRS) is challenging San Antonio residents to "Know Where to Throw" and donate more responsibly when it comes to dumping those unwanted household items.
The illegal dumping problem in Alamo City has grown as bulky waste items pile up at shopping centers, schools and other local business parking lots. All too often they are left in front of ATRS Clothing & Shoe Recyclers, which are meant for donations of clothing, shoe, toys and household textiles like towels, bedding and curtains. The donation bins are provided and maintained by ATRS as a free service to the community and allow for easy, convenient drop off points for gently used, out of season or unwanted textile items.
Instead, ATRS drivers have been overwhelmed by discarded mattresses, broken furniture, construction supplies, damaged televisions and busted toilets as they attempt to collect from donation bins throughout the community. These items should be properly disposed of at the City of San Antonio Bulky Waste Collection Center. This outlet provides drop off of these bulky items at no charge with your most recent CPS Bill. In addition there are twice-yearly curbside pickups that make it easy for residents within San Antonio's city limits to dispose of large unwanted items.
As a result of the illegal dumping, local charities like COIL that benefit from recycling partnerships with ATRS are greatly concerned. COIL provides ongoing programs, services and support for individuals with significant physical disabilities to become self-sufficient. Now, they are at risk of a significant decrease in monthly funding as donation bins are removed and relocated to combat escalating trash haul-off costs.
In June ATRS collected over 250,000 pounds of donated clothing, shoes and household textiles along with a whopping 85,000 pounds of garbage dumped in front of the recyclers, including televisions, furniture and mattresses.
"Over one-fourth of the pounds collected last month were bulk trash items that are not textiles and cannot be recycled," says Todd Norris, Central Texas Market Team Manager. "We have a commitment to property managers and the community to keep the areas around our bins neat and presentable. We are asking local residents to help us keep these areas clean." He further adds: "A good rule of thumb is that if it does not fit in the bin, it doesn't belong there."
To combat this issue, ATRS has purchased a dedicated truck and hired a special driver at its own expense to clear away this debris and haul it off. But it's important that local families, small businesses and construction crews do not mistake this commitment for confirmation that dumping is ok. Dumping bulky waste in front of these recyclers is not just unsightly it is illegal.
Local Residents are reminded to dispose of their bulk trash through the City of San Antonio Solid Waste Management Department Dial-A-Trailer, Bi-Annual Curbside Collection and by dropping it off on July 11 for Free Landfill Day.
Learn more about the items accepted in ATRS Clothing & Shoe Recycling bins, please visit the ATRS website or call the 24-hr Hotline 966-900-9308.
American Textile Recycling Service (ATRS) is the nation's fastest growing textile recycler. Its socially responsible business model provides free textile recycling solutions for the public, job stimulation worldwide and much-needed funding for worthy local charities. Easy, convenient ATRS Recyclers are available throughout San Antonio, Austin, Dallas, Houston, Galveston and Beaumont TX, Phoenix, Scottsdale, Tempe and Tucson AZ, Nashville, Florida, Michigan, Tennessee, Atlanta, Oklahoma, Colorado and Southern California. For press inquires contact pr (at) atrsonline (dot)com.