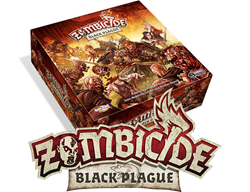 Zombicide Black Plague breaks records with $4 million raised
Alpharetta, GA (PRWEB) July 10, 2015
CoolMiniOrNot is proud to announce that Zombicide: Black Plague has raised more than $4 million from 21,000 backers via Kickstarter. This makes Zombicide: Black Plague the highest funded boardgame in Kickstarter history.
After launch on July 8th, Zombicide: Black Plague raised $1.2 million from eager backers in under 24 hours.
Zombicide: Black Plague gets medieval on the highly successful Zombicide franchise, transporting the zombie themed board game from the 21st century to the Dark Ages. Team-based solo play, a host of new weapons, spells and abilities in a fantasy setting brings a fresh twist to the genre. Contributing to the Kickstarter campaign's success is CoolMiniOrNot's stellar reputation for high quality games full of detailed miniatures - CoolMiniOrNot has 18 successful Kickstarter campaigns under its belt winning it legions of fans.
Zombicide: Black Plague is the most funded boardgame in Kickstarter history and is amongst the Top 20 Funded Kickstarter projects of all time. The game is anticipated to ship in Q1 2016.
About Zombicide: Black Plague:
Zombicide: Black Plague is a standalone cooperative boardgame for 1 to 6 players that brings the relentless zombie-killing action of Zombicide into a brand new fantasy setting! Players control a party of survivors as they fight to rid the land of an invasion of zombies controlled by the game itself. Survivors find weapons, learn spells, battle zombies, and gain experience. The more experienced they get, the more powerful they become, but the more zombies rise to face them!
About CoolMiniOrNot:
Founded in 2001 as a website gallery for painting miniatures, CoolMiniOrNot has grown into a highly successful publisher and developer for a variety of games, including tabletop wargames, board games, and card games. Notable recent successes include the Zombicide franchise, Wrath of Kings, Rivet Wars, Xenoshyft and Arcadia Quest.
About Kickstarter:
Kickstarter is the world's premier crowdfunding portal, with over $2 billion in crowdfunded projects successfully funding through its platform.
Links:
Zombicide: Black Plague Kickstarter - https://www.kickstarter.com/projects/coolminiornot/zombicide-black-plague/
Kickstarter's most funded list - https://www.kickstarter.com/discover/most-funded