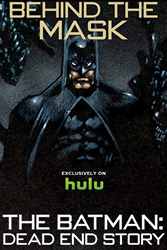 San Diego, CA (PRWEB) July 09, 2015
In his second documentary, Director & Screenwriter Eric Dow ("Honor in the Valley of Tears") takes us back to the winter of 2003 when commercial director Sandy Collora and some of his friends set out to make a low-budget short film for his demo reel. What they wound up actually doing was shooting one of the most elaborate, most watched, most talked about and most controversial short films ever made: Batman Dead End.
The film launched a nationwide craze when all eight minutes were unveiled at Comic Con in 2003, showing the simplicity yet the pure entertainment value of such a popular figure. In a Hollywood system where Batman movies are uniformly popular and huge-budget, mega-merchandised projects, this low-budget short shattered all expectations by garnering an incredible amount of buzz outside of the Hollywood system. With appearances from The Joker, Alien, and Predator, the film was a hit with die-hard comic fans and modern action film lovers alike.
Considering the amount of press and admiration Batman: Dead End garnered, everybody expected it to quickly propel director Sandy Collora into the Hollywood stratosphere, but instead his career failed to launch. Now, we get the inside look at the legend of the superhero and the people who helped create it including Collora, comic book legend Neal Adams, and convention all stars Sean Clark, Shawn Reeves and Jordu Schell. Behind The Mask: The Batman Dead End Story is an incisive look at the making of the short film, and what it takes to make it as a Hollywood A-lister.
Please note: Stars Sandy Collora, Michael O'Hearn, Sean Clark, Shannon Shea, and director Eric Dow will all be available for interviews.
Screeners are available for review.
Exclusive Clips Are Also Available.
Candy Factory Films is dedicated to producing and distributing high impact films and fostering communities around independent cinema. Candy Factory Films is a filmmaker-friendly multimedia distribution and production company committed to keeping with the best interests of our clients. We embrace emerging distribution and social media trends to successfully promote films and incentivize project-specific audiences. We promise individualized services and customized experiences to increase overall exposure. We pride ourselves on our inventive methods for filmmaking success. Connect with Candy Factory Films, on Facebook and @CandyFactory411.