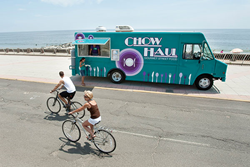 Allenhurst, New Jersey (PRWEB) July 08, 2015
Mobile food trucks have perfected the concept of delivery with their fast and convenient restaurants on wheels. With hopes to drive more business to their beaches, Brick Township, New Jersey is on the hunt for mobile food vendors to occupy Brick Beach One and Windward Beach Park for the 2016 season.
The selected vendor for Brick Beach One would begin in the summer of 2016 and last for three years. The Windward Beach Park mobile vendor would have a contract for one season. Businesses would also be able to sell their product at certain township events, excluding Summerfest and Bricktoberfest events.
For more information, visit http://brick.shorebeat.com/2015/06/brick-seeking-food-vendors-for-brick-beach-i-windward-beach/.
About Bielat Santore & Company
Bielat Santore & Company is an established commercial real estate firm. The company's expertise lies chiefly within the restaurant and hospitality industry, specializing in the sale of restaurants and other food and beverage real estate businesses. Since 1978, the principals of Bielat Santore & Company, Barry Bielat and Richard Santore, have sold more restaurants and similar type properties in New Jersey than any other real estate company. Furthermore, the firm has secured in excess of $500,000,000 in financing to facilitate these transactions. Visit the company's website, http://www.123bsc.com for the latest in new listings, property searches, available land, market data, financing trends, RSS feeds, press releases and more.