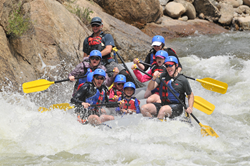 Weekdays are a great time to go rafting, because there are less crowds
(PRWEB) July 08, 2015
River Runners, a Colorado whitewater rafting company with locations at the Royal Gorge and at Browns Canyon, announced it is offering buy one get one half price on full day rafting trips – Monday through Thursday – until July 16, 2015.
This Colorado rafting discount is valid on full day rafting trips through the Royal Gorge, Bighorn Sheep Canyon, Browns Canyon and the Numbers sections of the Arkansas River, according to Travis Hochard, general manager, River Runners.
"Weekdays are a great time to go rafting, because there are less crowds," Hochard said. "This weekday rafting deal just offers extra incentive to book your trip during the week."
The Arkansas River peaked at more than 6,000 cubic feet per second in the Royal Gorge on June 18, 2015, which was higher the river had been since 1995, according to Jon Treleani, head boatman, River Runners.
"The high water was a lot of fun, but we are glad to be back to normal water levels, which provide a safer experience for guests," Treleani said. "All commercial rafting sections are back open and the conditions are still amazing."
Flows on the Arkansas River are returning to normal, which means the Colorado rafting industry is getting back to business as usual, according Treleani.
"The snow is mostly melted out, but the reservoirs are full and the ground is saturated, so we expect a nice long rafting season," Treleani said.
River Runners operates out of two locations on the Arkansas River in Colorado. Choose from beginner, intermediate and advanced whitewater on half-day, full-day and overnight rafting trips. Call 800-723-8987 or book online at whitewater.net.