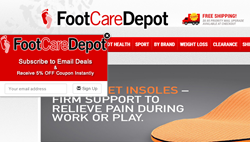 The customer conversion rate we have seen so far is a testament to the value we have gained from ShopSocially's Get-an-Email app. - Justin Dees, Founder at FootCareDepot.com
Santa Clara, CA (PRWEB) July 09, 2015
FootCareDepot.com, a one-stop resource for shoe insoles, arch supports and more, wanted to increase the number of email subscribers on its website. Using ShopSocially's Get-an-email app, FootCareDepot.com not only increased the number of email subscribers but also converted these email subscribers into top quality customers. ShopSocially's social commerce platform is helping FootCareDepot.com convert its website visitors to email subscribers. These email subscribers are converting into high quality customers at an impressive rate of 46.4%.
"Email marketing is one of the most effective and influential marketing channels. We are very happy with ShopSocially's social commerce platform," commented Justin Dees, Founder at FootCareDepot.com. "Our company was founded to market and deliver quality products. The Get-an-Email app offers us an innovative way of understanding and engaging with customers through regular email updates. The customer conversion rate we have seen so far is a testament to the value we have gained from ShopSocially's offering."
With a reputation for professional and personalized customer service, FootCareDepot.com made the decision to bring on ShopSocially's online email acquisition module, to encourage its high number of website visitors to sign up to its email subscription program, ensuring they were leveraging the website traffic coming through.Website users are subtly encouraged to sign up for the company's newsletter via the strategic placement of the app on the website homepage. Through the app, the users were also rewarded with a discount coupon on becoming email subscribers.
ShopSocially's Get-an-Email app provides a complete customizable user-interface to blend with the default user-experience of the eCommerce website. The effectiveness of the app increases with the advanced targeting parameters like website session history, geo-location, access devices, etc. ShopSocially also provides a robust performance tracking dashboard, through which the email acquisition programs can be monitored and improved to acquire better results. This helped FootCareDepot.com design a highly effective email acquisition program that resulted in rapid addition of email subscribers. These email subscribers are further converted to sales at a high rate of 46.4% on their website.
"It's great to see that our solution has aided FootCareDepot.com in scoring a high sales conversion rate, helping the company turn web impressions into actual purchases," added Samir Palnitkar, President at ShopSocially, "This is a great example of the impact incentivised email marketing can have on customer acquisition and how ShopSocially can be used to help online businesses increase sales and improve engagement."
About FootCareDepot.com
FootCareDepot.com is a one-stop resource for shoe insoles, arch supports, plantar fasciitis treatments, heel pain treatments and more. FootCareDepot.com is the solution provider to anyone suffering from foot pain or foot health issues. High quality, carefully selected array of the best products from the best makers in the foot health industry makes FootCare.com a pioneer in this domain. For more information please visit http://www.footcaredepot.com/
About ShopSocially
ShopSocially is a premium, social, referral and loyalty platform for marketers. Leading brands like Zazzle, ULTA, Beretta, Dressbarn, Avenue etc. are using the ShopSocially platform to enable referral marketing, visual commerce, customer loyalty, social login, social gamification and other such programs on their site.
ShopSocially has been consistently driving word-of-mouth promotions via social for 1000s of brands and delivering positive ROI for their social media efforts. ShopSocially has won several awards and has also been featured by Facebook in a Social Commerce case study.
Launched in Oct 2010, ShopSocially is a privately held company in Santa Clara, CA. For contact information, please visit http://shopsocially.com/platform/request-a-demo.html.