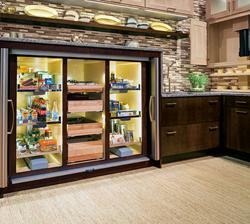 Smart Design your home for convenience and maximization of space.
Ashland, AL (PRWEB) July 13, 2015
Smart Design by Wellborn Cabinet, Inc. is the combination of organizational accessories, technology, and proper lighting to bring you home storage options that work together to maximize the use of space in every room of the home. The use of cabinetry and Smart Design is not restricted to only the kitchen but can be used in all spaces including but not limited to bathrooms, craft rooms, closets, living areas, mudrooms, bedrooms, offices, laundry rooms, pantries, and garages. With the trend of downsizing in homes, it is more crucial than ever that every inch of space is put to use.
Organization is key when it comes to "smart" designing a home and is why it is so important to make use of organizational accessories that are available for cabinetry. Accessories such as sliding shelves, spice rack pullouts, and drawer dividers are a few examples of these features. Usage of these accessories allows for increased storage of items while giving each item its own space. This also makes locating items much simpler.
With advances in technology, convenience is at an all time high. Features such as touch to open, touch to close, touch to lift, and touch to light allow for a more sanitary and easy way to access cabinets. Another way that technology adds convenience to everyday life is with products that lower and lift to accommodate all abilities with the push of a button. Technology makes daily tasks more accessible for everyone.
Lighting, the third element of smart design, is something that is often overlooked. Even if a space incorporates organization and technology, its ability is not maximized without proper lighting. Lighting not only makes items easier to locate, but it also complements the beautiful cabinetry.
When pairing organization, technology, and lighting to cabinetry in any room of the home, space is guaranteed to be maximized. For more information on Smart Design, go to http://www.wellborn.com.