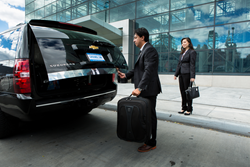 Seventy-three percent of respondents admitted they have left embarrassing items, from underwear and false teeth to wedding rings and sex toys, behind in their past travels.
New York, NY (PRWEB) July 09, 2015
As the summer travel season gets into full swing and a record number of travelers head to the nation's airports, GroundLink®, a leader among tech-enabled black car services, has surveyed more than 200 frequent travelers on items that have been lost or stolen while away from home.
Nearly all the respondents answered that they had lost items at some point, and not too surprisingly it is believed that men are the culprits more often than women, with 69 percent believing men were the more forgetful travelers. While the single most common lost item was a cell phone (29 percent), leading the rankings as the most stressful items to lose were essential travel items such as a passport (33 percent), an entire wallet (23 percent) followed by a cell phone (19 percent).
Limo Drivers Most Likely to Return Lost Items; Beating Out TSA Agents
Cars, taxis, and limos are the second most common (42 percent) place to leave an item, behind hotels (69 percent) and in front of airplanes (28 percent). When it comes to recovering lost items, most respondents (53 percent) believed that they were most likely to recover an item from a limo service driver, compared to flight attendants (22 percent), hotel housekeepers (eight percent), ¬¬taxi drivers (three percent) and even security and TSA agents (11 percent).
"As a leading black service we are no strangers to items being left behind in our vehicles," says Liz Carisone, CEO of GroundLink. "As a company that prides ourselves on our customer service, we try our hardest to match lost objects back with their respective owners. It was reassuring for us to see that according to respondents limo drivers are the most likely group to come to the rescue for travelers."
Travelers Leave Embarrassing Items; Nearly One Third Have Been Victims of Theft
Many travelers might be familiar with the sinking feeling of realizing that they have left an embarrassing personal item behind, and they are not alone. 73 percent of respondents admitted they have left embarrassing items, from underwear and false teeth to wedding rings and sex toys, behind in their past travels.
While nearly half of all respondents (49 percent) valued their losses at $50 or less and only 15 percent have lost valuables of $500 or more, the idea that travelers make easy targets was reinforced by the survey respondents. More than a quarter (28 percent) of all those polled answered that they had been victims of theft while travelling.
About GroundLink
GroundLink is a tech-enabled black car service provider focused on the needs of frequent and business travelers, corporate travel managers and travel arrangers. Operating in every major city worldwide, GroundLink delivers high quality reliable transportation and the industry's only on time guarantee. Customers can book GroundLink rides online at https://www.groundlink.com, through its iPhone and Android app, and its 24/7 call center (855.463.7150). GroundLink has offices in North America and Europe, with its headquarters in New York, NY. Connect with GroundLink on Twitter @GroundLink and on Facebook.com/GroundLink.
# # #