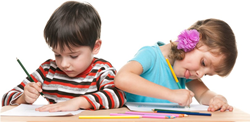 Everybody who submits gets a $15 gift certificate to Everything Summer Camp!
Boyd, WI (PRWEB) July 15, 2015
Summer camp is a pretty big deal for kids all over! At camp, kids have the opportunity to achieve accomplishments, make new friends, overcome previous fears, and so much more. It shows them a side of life that they've never seen before.
Summer camp is a place where fun is pretty much always first and foremost. In having fun, camp teaches kids skill sets for athleticism, artistry, intellectualism, etc. Camp offers a plethora of pals for kids to make and help them understand on an individual basis what it means to be part of a community. It shows kids what it's like to be away from home—more-or-less on their own. And it provides them with the beautiful surroundings of Mother Nature, where they can experience a deep connection with her.
Every year, summer camp generates a lot of interest and intrigue from kids and parents alike. It's got a lot going on for itself! That's why summer camp retailers, such as Everything Summer Camp are curious to hear from the campers themselves how was summer camp? They want kids to write about their time at camp and submit their passages. They want this so much that they're offering $15 gift cards for their website to everyone who submits.
There's definitely a lot going on at camp, so it may be a little difficult to focus in on one thing. If this is the case, suggest a diary or journal-style submission that chronicles the full camp days. Talk up camp and why it's the best. Submissions must include first name and last initial, what camp was attended, and how many years of camp have been attended by the camper.
These submissions will then be published on the Everything Summer Camp Blog. All entries must submit by August 31. Seven random winners will be chosen. It breaks down like this: the first randomized winner will receive a $100 gift card for everythingsummercamp.com. Two more winners will be randomly picked to receive $50 gift cards. After that, four random winners will get $25 gift cards. All other submissions will receive the $15 gift cards.
About Everything Summer Camp
Everything Summer Camp has been helping kids get ready for summer camp since 1987. Their wide selection of camping gear includes camp trunks and other camping supplies. Top selling items include water bottles, cot-sized bedding, rain jackets, insect repellent, iron on labels, and more. Known for their customer service and fast shipping Everything Summer Camp is recommended by more camps than any other camp outfitter.
Visit http://www.EverythingSummerCamp.com to learn more about camp footlockers, name labels, duffel bags, and camping supplies.