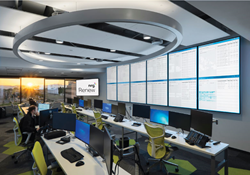 "Immedia is proud to provide our client with a project that not only delivered their vision, but that was also an exemplar for the tech industry. We enjoy raising the bar." - Jeff Emmons, President
Scottsdale, Arizona (PRWEB) July 10, 2015
Immedia Integrated Technologies (Immedia LLC), http://immedia-tech.com/ has been honored with the Samsung Smart Signage Award for Excellence in Innovation at InfoComm15 in Orlando in June.
The Excellence in Innovation is a new award recognizing a Samsung Partner for an innovative and original solution installation deployed in 2014. Immedia's innovative design and installation for NRG Renew's Scottsdale office included a video wall comprising multiple contiguous 85" 4k displays to provide maximum content area and resolution.
"The Samsung Smart Signage Award Celebration allows us to take a moment and recognize the unique and outstanding achievement our ProAV Dealers make in this rapidly growing industry," said Richard Hutton, director of channel marketing at Samsung Business. "As the ProAV space continues to evolve, we take great pride in recognizing those partners like Immedia Integrated Technologies who stand in the forefront of innovative design and deployment."
"The entire team at Immedia Integrated Technologies shares in this recognition," said Jeff Emmons, president of Immedia. "This award is a result of our highly collaborative and creative team; we are proud to be able to provide our client with a project that not only delivered their vision, but that was also an exemplary one for the tech industry. We enjoy raising the bar."
The Smart Signage Award recognition event was held in Orlando and was sponsored by several Samsung Distributors, namely ALMO, IAVI, Ingram Micro and Stampede. "This is one of the biggest events we manage at Samsung Business," says Hutton. "We're able to make this event much more impactful as a result of the significant contributions our distribution partners make each year."
###
About IMMEDIA
Immedia Integrated Technologies is an industry leader in audio visual and technology integration. Providing design-build, project management, installation, advisory services and ImmediaCareTM support, Immedia delivers creative and cost-effective applications to solve for all of a building's business demands. Headquartered in Scottsdale Arizona since 2004, the company provides product and services to commercial, education and residential clients throughout the southwestern United States. For more information, visit: http://immedia-tech.com/, call 480- 355-3977, or find us on Twitter at https://twitter.com/immediaavs and Facebook at https://www.facebook.com/immediaavs?fref=ts
About Samsung Business
As a global leader in enterprise mobility and information technology, Samsung Business provides a diverse portfolio of enterprise technologies from smartphones to wearables, tablets, digital displays, hospitality TVs, printers and medical diagnostic equipment. We are committed to putting the business customer at the core of everything we do by delivering comprehensive products, solutions and services across diverse industries including retail, healthcare, hospitality, education and government. Samsung Business is committed to helping customers realize the promise of a digital business. For more information, please visit samsung.com/business, call 1-866-SAM-4BIZ or follow Samsung Business via Twitter: @SamsungBizUSA.
About Samsung Electronics America, Inc.
Headquartered in Ridgefield Park, NJ, Samsung Electronics America, Inc. (SEA), is a recognized innovation leader in consumer electronics design and technology. A wholly owned subsidiary of Samsung Electronics Co., Ltd., SEA delivers a broad range of digital consumer electronics, mobile products and wearables, wireless infrastructure, IT and home appliance products. Samsung is the market leader for HDTVs in the U.S and one of America's fastest growing home appliance brand. To discover more, please visit http://www.samsung.com