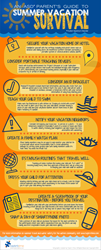 Atlanta, GA (PRWEB) July 09, 2015
Taylor's Time, an online service that connects qualified local sitters with children on the autism spectrum, introduces an infographic designed to help parents of children diagnosed with an autism spectrum disorder (ASD) keep their families safe while traveling away from home environments this summer. Included in the infographic are 10 tips that highlight the need to be more present and prepared when children with autism are near or around water, such as beaches, pools, lakes and waterparks.
According to AAA, 66 percent of Americans plan to take at least one vacation during the summer travel season. By taking the proper precautions and preparations ahead of travel, families living with autism can have a fun family experience. The company's new infographic, "An ASD Parent's Guide to Summer Vacation Survival", offers the following helpful travel and water safety tips for families with children on the spectrum:
1. Secure Your Vacation Home or Hotel
If you are staying in a place that has an alarm system, familiarize yourself with the settings, including entry/exit zones such as windows and sliding doors. If your temporary home does not have a monitored system, consider purchasing a portable system or wireless window alarms.
2. Consider Portable Tracking Devices
Check with local law enforcement for Project Lifesaver or LoJak SafetyNet services, which provide devices that locate individuals through radio frequency or GPS. Alternatively, use a personal tracking device, especially if your child has a favorite toy or article of clothing.
3. Consider an ID Bracelet
Medical ID bracelets include important information, and may also state that your child has autism and is non-verbal (if that's the case). If your child will not wear a bracelet or necklace, consider a temporary tattoo with your contact information or using body marking pens.
4. Teach Your Child to Swim
Make sure the final lesson is with clothes on. If you're staying at a hotel, especially one with a pool, be sure to ask the manager or front desk person to alert you if they see your child alone. Leave a photo of your child, along with your cell phone number with appropriate hotel staff and let them know of your child's tendency to wander.
5. Notify Your Vacation Neighbors
Consider introducing your loved one to your temporary neighbors, especially if you're in a condo or a house and there is water nearby. Knowing your neighbors can help reduce the risks associated with wandering.
6. Create a Family Watch Plan
Other family members may be on hand to help monitor your child, but be crystal clear about whose responsibility that is. Avoid wandering mishaps by settings some ground rules with family members when it's their time.
7. Establish Routines That Travel Well
Teaching at-home routines like having your child ask, "is it safe?" or knocking loudly every time they approach a closed door can go a long way in keeping your child safe while on vacation.
8. Dress Your Child for Attention
Wearing colorful clothing can help your child stand out in crowds. Look for bright colored swimsuits and shirts when vacationing to the beach. It'll be easier for you to spot your child among the masses.
9. Create a Scrapbook of Your Destination – Before You Travel
Familiarize your child with your destination before you even leave the house. Creating a book will help your child become a bit more comfortable with the new things he or she may see or places they might visit on the trip.
10. Snap a Day-Of Smartphone Photo
Take a picture of your child as you leave the house for the day's activities. In the unfortunate event your child is separated from you, this photo can help family and first responders locate your child more quickly.
To view the infographic and learn more about summer travel and water safety for the autism community, please visit http://bit.ly/1Fj1M08. For the latest company news, follow us on Facebook at TaylorsTime and Twitter at @TTautism.
About Taylor's Time
Taylor's Time connects parents with children on the autism spectrum with qualified local sitters. We expertly match your child's unique needs with a caregiver's unique skills to provide an engaging, caring and compassionate experience for special needs children. Simply browse for sitters in your area, schedule and book online. For more information, visit http://www.taylorstime.com.