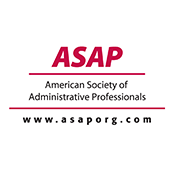 I really do believe that we offer just about everything under the sun that would benefit an admin or EA, and because that encompasses a great deal of information, we knew we needed a newer, fresher way for our members to access it all
Portland, ME (PRWEB) July 15, 2015
The American Society of Administrative Professionals (ASAP) is pleased to announce the launch of its newly redesigned website, http://www.asaporg.com. ASAP's new look features a modern approach with easier-to-read web content, simple navigation, and new resources and educational content for admins. The site is accessible to the general public, with certain content areas and resources accessible just to ASAP members. ASAP membership is free.
With the site rollout, ASAP's 55,000+ members will continue to have access to all previously available articles, columns, webinars, and other online training and resources, with newly added benefits, such as a portal for meeting planners to research and book room blocks or meetings at hotels. This free resource, a result of ASAP's partnership with Zentila.com, is available at http://www.asaporg.com/about/zentila.
Also new to the site is ASAP's Career Center, a search tool for those seeking a new admin or Executive Assistant position. Jobs are searchable by keyword, job title, and location. Employers may use the site to list openings (contact: Spencer Hudson at 512-366-7094 or shudson(at)yourmembership(dot)com). ASAP members may also set up job alerts for themselves to stay aware of new job postings.
"We are exceptionally pleased with the all-new asaporg.com!" said Judy Geller, Executive Director of ASAP. "After ten years of giving admins a flexible, valuable online resource, the site is extremely content-rich. I really do believe that we offer just about everything under the sun that would benefit an admin or EA, and because that encompasses a great deal of information, we knew we needed a newer, fresher way for our members to access it all – and I believe we've done just that," she added.
Additionally, the website boasts a new Gift and Product Guide, a listing of goods and services for the office or home. The guide features a range of offerings, including office products, travel and accommodation services, corporate gifts, holiday gifts, personal shopping ideas, and more.
To celebrate the website's new design, ASAP is currently offering a "Celebration!" Webinar Pack: the first 100 registrants will get access to all 2015 ASAP "Learn it Live!" webinars plus unlimited access to ASAP's library of on-demand webinars for a discounted rate of $499.
About ASAP
Celebrating its 10th year anniversary in 2015, ASAP has grown its membership to 55,000 admins from around the world, and gives its members access to over 450 online training courses, live and on-demand webinars, a monthly newsletter, articles and features geared for admins, and a prestigious admin certificate program. ASAP is a business unit within Diversified Communications, a global organization operating on four continents and a major independent producer of events and media worldwide. For more information, visit http://www.asaporg.com.