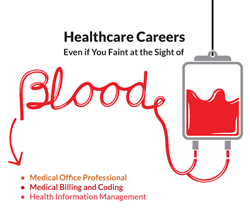 specific information about job responsibilities, salary, prospects, and overall job satisfaction
(Lynchburg, VA) (PRWEB) July 09, 2015
American National University, a career college with campuses in six states, has created an infographic that looks at a few healthcare careers in a new light with: "Healthcare Careers Even if You Faint at the Sight of Blood. " The infographic notes that healthcare is a high-demand field that many rule out simply because they do not like the sight of blood. The easy-to-follow ANU infographic dispels that notion and gives three healthcare options that are available—even to the squeamish: Medical Office Professional, Medical Billing and Coding Specialist, and Health Information Management Technician.
The infographic points out the many healthcare settings where these respected professionals might find employment. It also provides specific information about job responsibilities, salary, prospects, and overall job satisfaction. It goes into detail about the exact responsibilities that these professionals are likely to perform and where their jobs might lead them in their future. For example, professionals in these careers sometimes go on to become Medical Office Managers and Administrators, Medical Billing Managers, and Health Information Managers and Directors.
Each position is examined individually and as a member of the broad healthcare industry. According to the infographic, Medical Office professionals have an "above average" ranking for upward mobility, while Health Information Management Technicians who have International Classification of Diseases (ICD) training, can earn 20+ percent above the national average.
The infographic also details how American National University trains its students for theses professions and how it prepares students for the certifications that can increase graduates' marketability and earning potential.
Those interested can access the infographic right now or visit the school's website for more information about these rewarding careers and how to train for them.
About American National University:
American National University is a career college that offers more than 45 academic programs through 31 community-based and virtual campuses in six states. Founded in 1886, ANU has a long history of providing essential skills to an evolving workforce and it remains committed to doing so into the 21st century and beyond. ANU has won numerous awards including the Association for Private Sector Colleges & Universities TOPS Award (2012), the Top 15% Military Friendly School (2010-2014), and a Lifetime Achievement Award (Imagine America Foundation, 2012) recognizing American National University President Frank Longaker's 40 years of service to the career college sector. American National University is accredited through the Accrediting Council for Independent Colleges and Schools.