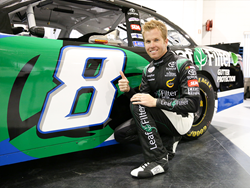 Hudson, Ohio (PRWEB) July 09, 2015
Blake Koch, NASCAR XFINITY Series driver of the No. 8 LeafFilter™ Toyota Camry, will be making a special appearance at LeafFilter™ Gutter Protection's headquarters in Hudson, Ohio.
As Blake Koch's primary sponsor for the NASCAR XFINITY Series, LeafFilter™ will be hosting a special invitation-only event to welcome Koch to Northeast Ohio on August 13th, 2015 from 10am – 2pm. This special event will include a meet and greet with NASCAR driver, Blake Koch. The racecar driver will be available to answer questions, pose for pictures, sign hero cards and other NASCAR memorabilia.
Guests of the event will be able to view Blake Koch's hauler that travels around the nation. The 18-wheeler transports the entire LeafFilter™ Racing Team, along with two stock cars to each NASCAR XFINITY Series race.
It's rare for a NASCAR driver and his entire team to make the 18-wheeler transporter available for public viewing. In an effort to show his appreciation to his primary sponsor, Koch insisted that the hauler make a pit stop at LeafFilter's headquarters in Hudson, Ohio before racing just a few days later. Usually, fans of the sport only have the opportunity to view a hauler at the NASCAR Hall of Fame in Charlotte, North Carolina.
During the event, the actual No. 8 LeafFilter™ Toyota Camry will be on exhibit, which will be used in the Nationwide Children's Hospital 200 Race at Mid-Ohio just two days later on Saturday, August 15th. This is an exciting opportunity for guests since companies typically display a model car, not the actual race car, at events. Guests will have the opportunity to take pictures with Koch in front of the No. 8 LeafFilter™ Toyota Camry.
This exclusive event is invitation-only as we are unable to open this event to the general public at this time. We'd like to share this event with the community by extending an invitation to the local press of Northeast Ohio.
Event Details:
Who: Blake Koch, NASCAR XFINITY Series Driver
What: Meet and Greet with Blake Koch
LeafFilter™ 18-wheeler Hauler Exhibit
No. 8 LeafFilter™ Toyota Camry Viewing
Where: 1595 Georgetown Road, Hudson, OH 44236
When: August 13, 2015 from 10am – 2pm
Media:
For more information, the media can contact the event organizer, Senior Digital Content Strategist Amanda Curry at 330-655-8779.
About LeafFilter™ and LeafFilter™ North, Inc.
Since 2005, LeafFilter™ Gutter Protection has grown from one location in Hudson, Ohio, to 25 locations nationwide, and has been rated the #1 gutter guard system by two leading consumer publications.
LeafFilter™ Gutter Protection assists homeowners by keeping gutters clog-free and protects your home by preventing roof, structural, and foundation issues. The openings within the stainless steel micromesh are specifically sized so that only water is channeled into the gutters. LeafFilter™ North, Inc. has installed more than 20 million feet of gutter protection on homes throughout the United States and has served 95,000 satisfied customers with ZERO clogged gutters.
###