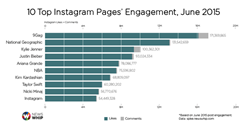 "The Instagram heart is one of the most used buttons on the social web and our findings have big implications for individual and professional social media users. Instagram is becoming increasingly important to your marketing – Liam Corcoran, NewsWhip
New York, NY (PRWEB) July 09, 2015
An index from NewsWhip of the 10 largest Instagram accounts by engagement in June 2015 finds that engagement rates on images and videos are notably higher than those observed on other social platforms, such as Facebook and Twitter.
No1 in the index, publisher 9Gag, demonstrates this Instagram engagement impressively, generating an enormous 171 million interactions from just 260 posts in June. National Geographic and Taylor Swift also appear in the index, creating huge levels of social engagement on Facebook's photo sharing app.
NewsWhip's research also shines new light on the promotional power of Instagram for individuals, with six celebrities appearing in the Top 10 index, often generating more monthly interactions than global publishers do on Facebook.
Read the research and see how the Top 10 achieve their success via the NewsWhip blog.
"The Instagram heart is one of the most used buttons on the social web and our findings have significant implications for individual and professional social media users, seeking to maximize their engagement and reach. Instagram is growing fast in strategic importance for connecting with your audience" – Liam Corcoran, Head of Communications – NewsWhip
About NewsWhip
Based in Dublin, Ireland and New York, NewsWhip is a social media analytics platform, powering a suite of trending analytics products used by journalists and editors, marketers, and communications and PR professionals.
NewsWhip's best-known product, Spike, is a dashboard for analyzing real-time social velocity and trajectory of content. Spike predicts 79% of viral stories within the first hour of publication and is used by clients such as: BBC, BuzzFeed, Edelman, Fleishman Hillard, Huffington Post, Intel, Mastercard and Wells Fargo.