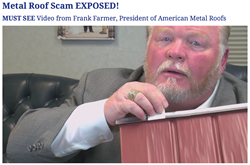 People want to believe that a metal roof can be bought inexpensively. This is simply not true. -Frank Farmer, President American Metal Roofs
Flint, Michigan (PRWEB) July 17, 2015
Frank Farmer, President of American Metal Roofs (AMR) has recently released a five minute video exposing the latest scam in the metal roofing industry. As a nationally recognized leader in the home improvement industry, Farmer has seen and has been disheartened by waves of consumer deception throughout the years.
Starting in 1986, Frank Farmer built American Metal Roofs from the ground up. Guided by the company's core values of God first, family second and business third, Frank has positioned AMR as a roofing expert that maintains the highest levels of integrity and customer service.
Frank's video first touches on the weakening of the asphalt roof as manufactures are using less expensive raw materials in their products. As the product's lifespan has dwindled to 8-10 years, the warranties (riddled with loopholes) tout lifespans from 40 years to a lifetime.
But the heart of Franks's short exposè is a new deception within the metal roofing segment. This blatant deception has prompted Frank to help inform, educated and warn the public about inferior metal roofing solutions that will leave homeowners with nothing more then tiny holes in their roofs and big holes in their wallets.
"People want to believe that a metal roof can be bought inexpensively. This is simply not true." -Frank Farmer- American Metal Roofs
Frank's must-see video shows how many unsuspecting customers are lured into price-saving solutions. These victims only receive barn metal to protect their homes, compared to a quality metal roof designed for a lifetime of harsh weather and constant expansion and contraction.
You can see Frank's video here.
About American Metal Roofs:
American Metal Roofs provides residential and commercial metal roofing products and services for the Michigan Lower Peninsula. American Metal Roofs specializes in installing metal roofing from the leading manufacturers of permanent metal roofing.