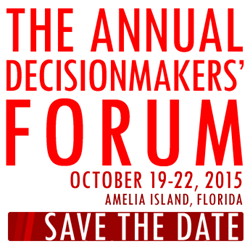 "The addition of these speakers adds to the vital conversations that we need to continue between government officials and the industry."
Arlington, VA (PRWEB) July 15, 2015
The 27th Annual Decisionmakers' Forum, produced by ExchangeMonitor Publications & Forums, provides key leaders from government and industry the chance to network, in an intimate setting, while discussing the full range of issues facing the cleanup of the U.S. nuclear weapons complex and similar efforts worldwide.
ExchangeMonitor is pleased to announce the confirmation of four prominent speakers from the Department of Energy (DOE):

Mark Whitney, Principal Deputy Assistant Secretary, U.S. Department of Energy (DOE) Office of Environmental Management (EM)
Alison Markovitz, Director, National Laboratory Operations Board, DOE, and Senior Advisor to Secretary of Energy
J.E. "Jack" Surash, P.E., Deputy Assistant Secretary for Acquisition & Project Management for Environmental Management (EM)
Frank Marcinowski, Deputy Assistant Secretary for Waste Management, Office of Environmental Management (EM)
"These confirmations lend itself to the unique format of this forum, which blends together timely and informative sessions and important networking opportunities to discuss the critical policy and regulatory changes that have occurred in the past year regarding cleanup efforts, procurement updates, and safety performance," says Thomas Sloma Williams, Publisher, ExchangeMonitor. "The addition of these speakers adds to the vital conversations that we need to continue between government officials and the industry."
Join more than 400 experts that will gather in Amelia Island, Florida for the 27th Annual Decisionmakers' Forum October 19-22, 2015. The program, led by Forum Chair, Llewellyn King, Founder of The Energy Daily and Executive Producer and Host of "White House Chronicle," and Program Director, Rob Smart, former Senior Fellow with the U.S. Nuclear Infrastructure Council (NIC), will cover significant issues facing the U.S. nuclear weapon complex.
Sessions include:

Successes and Opportunities for the U.S. DOE Office of Environmental Management
Industry Perspectives on the Cleanup Market and Fiscal Realities
New Contracting and Procurement Approaches
WIPP Reopening – New Updates in 2015!
Site Cleanups
Opportunities for Governance Changes and Improving Safety Performance and Oversight at the DOE
Upcoming Procurement Opportunities
UK New Contracting Approaches and Opportunities
Waste Cleanup Alternatives Being Developed Internationally – New in 2015!
Plus, a special panel dedicated to new ideas advancing nuclear waste cleanup – New in 2015!
Registration for this highly-anticipated educational forum is open and the early bird rate expires September 25. Visit http://www.exchangemonitor.com/forums/the-annual-decisionmakers-forum/ for more information about secured speakers, sessions, and registration information.
About ExchangeMonitor, a division of Access Intelligence, LLC
ExchangeMonitor Publications & Forums, Inc. publishes professional newsletters and creates, manages and sponsors forums, colloquiums and workshops to facilitate an exchange of views and information among government officials, private industry executives, non-governmental organizations and other entities on critical national and international programs and policies.
About Access Intelligence, LLC
Access Intelligence, LLC, a portfolio company of Veronis Suhler Stevenson, is a b-to-b media and information company headquartered in Rockville, Md., serving the media, PR, cable, healthcare management, defense, chemical engineering, satellite and aviation markets. Leading brands include Weapons Complex Monitor, RadWaste Monitor, Nuclear Security and Deterrence Monitor, GHG Reduction Technologies, Defense Daily, Cynopsis, Cablefax, PR News, FOLIO:, AdMonsters, Event Marketer, LeadsCon, Chief Marketer, Media Industry Newsletter, Defense Daily Network, Aviation Today, Studio Daily, POWER and Via Satellite. Market-leading shows include The RadWaste Summit, The Decisionmakers' Forum, The Nuclear Deterrence Summit, LeadsCon, CCUS Conference, The FOLIO: Show, Event Marketer Summit, SATELLITE 2015, OR Manager, LDC Trade Forums, Clean Gulf, ELECTRIC POWER, Energy Ocean and Offshore Communications. Access Intelligence also produces executive conferences for the healthcare, PR, media, cable, energy and defense market.