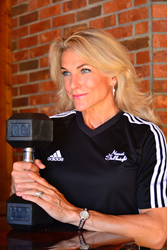 Award winning staff at the Currahee Club in Toccoa Georgia
Atlanta, GA (PRWEB) July 13, 2015
Last month, Real Estate Scorecard was invited to attend an international fitness event in Fort Lauderdale Florida, a series of body sculpting competitions with contestants of all ages from around the world. Nanci Fulbright, the 43 year old 'ripped' personal trainer for the Currahee Club took 1st Place in an international women's physique competition.
In 2013, Fulbright decided to venture way out of her comfort zone to compete in a figure competition in Miami, Florida. For her, the training and preparation for this event was the most grueling over training for any other event hence the reputation that body building competitions have as being the "icing on the fitness cake." She placed respectively for her first competition, not at the top, but toward the middle of my class. It wasn't too long after that when she was competing in Atlanta where she won the Masters then began placing in the Open classes. But, what kept lingering in the back of her head was the desire to take what she knew from her on-going competition experience back to the international competition to try to present a better package than she did in 2013. Her son, Clayton, was interested in one day competing and they made it a "bucket list" plan to one day train and compete together as mother & son at the international competition which happened to be this year, 2015 and in Fort Lauderdale, Florida.
The bucket list became a reality as her 20 year old son competed with her, in the men's competitions at the international competition. Clayton is a pre-med student at college and on the Dean's List. "Competing at this level gives you a chance to see how much discipline you have," states Clayton. All in all, the mother and son team took home four trophies between them. We couldn't help but ask - what motivates a 43 year old woman to compete in an international competition against 20-something-year-olds? The answer is inspiring.
"As a trainer, I am always learning and looking for ways to become an even better trainer/coach to those I serve. And I know personally I would not hire a trainer who does not take care or pride in having or maintaining their certifications. Sure, experience and results speak volumes but so does the effort it takes to attend classes and maintain current certification. I have been certified with the Aerobics and FItness Association of America (AFAA) for six years. I have a specialty certification in Coaching Obesity and I am a Level I Coach with Training For Warriors. Also, I am a certified TRX Suspension Trainer Coach along with owning Bright Star Fitness where at different times of the year I offer 12-week Change Challenges and online training," says Fulbright.
She began her career as a personal trainer at The Toccoa-Stephens County YMCA. At first, she only trained one on one with private clients, then eventually led a few early morning boot camp style classes. The clients Fulbright was training experienced measurable success and began spreading the word. She then became a Gold's Gym Personal Fitness Trainer, followed by coaching sessions at the Currahee Club. After a delicate balancing act of teaching at both facilities, she chose to train solely at the Currahee Club and has never looked back.
When Fulbright drove through the beautiful entrance of Currahee Club, she felt like she was on vacation in a different part of the world. "The employees are all so friendly and take a personal care to the jobs they do," says Fulbright. From the the perfectly manicured landscaping to the beautiful Currahee Club homes, the community is a breath-taking backdrop for whatever exercises we may be doing outside."
Fulbright describes: "at Currahee Club we start training early. I offer a 5:00 a.m. hour long group circuit training class then another group class at 6:00 a.m.. After that I offer private training sessions for either thirty minutes or an hour with clients that either prefer to not be trained in a group with more one on one attention or not quite the early bird as some are. Oftentimes, I'll take my clients out for intervals of walk/jog up to the Club House for stretching as the sunrises over Lake Hartwell. The luxury of having a trainer is that we take the "brain work" out of exercising which is especially nice for either busy people or those that don't want to waste time in trying to meet their goals." She states, "at this time, none of my training clients at Currahee Club are looking to compete in a body building competition so I would not train them the way that I had to train. I train in a way that sets people up for a lifestyle of moving more and eating healthier."
With fitness ranking high on the list of priorities at retirement, Boomers are attracted to master planned communities with comprehensive wellness centers and personal trainers available on demand. With a wall of awards and trophies already on display in the clubhouse, Andrew Ward, Managing Parter of the Currahee Club, has done it again by hiring the top talent he can find for the Currahee Club members including personal trainer Nanci Fulbright.
The Currahee Club is a perfect example of amplified 'southern living' with continuous events wrapped around food, enjoying the great outdoors, beautiful homes and club amenities. Amenities include:
CURRAHEE CLUB AMENITIES
24 Hour Manned Gated Entrance
18 Hole Championship Golf Course designed by Jim Fazio
Practice Facility and Putting Greens
48,000 Square Foot Golf Clubhouse with indoor and outdoor dining
Currahee Club Amenity Campus with resort-style Swimming Pool, two Tennis Courts and Fitness Center
Children's Playground and Ball Courts
Currahee Club Lake Park and Covered Community Boat Docks
Fulbright continues "preparing for Fitness Universe taught us so much about ourselves. We knew we had to work for it, if we wanted it but there were times when it just seemed too challenging. Quitting the process was always whispering in our ears but we stayed the course."
To live a happy, healthy and fit life, train personally with Nanci Fulbright while you're exploring the variety of Currahee Club homes. Contact them direct to check on Discovery Package availability by calling 888.560.2582.
About Real Estate Scorecard:
Real Estate Scorecard writes unbiased real estate reviews providing in-depth information about popular gated communities in Florida, Georgia, North Carolina, South Carolina and Tennessee, all in an effort to help people discover where to retire in the Southeast.
Website: http://realestatescorecard.com