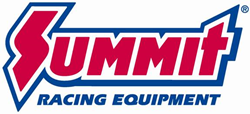 Tallmadge, OH (PRWEB) July 09, 2015
Excess heat is the enemy of engine oil and transmission fluid. Don't flirt with heat—get a Derale Remote Fluid Cooler to keep oil from overheating during a race or extended towing and prevent major component damage. Summit Racing carries a large selection of Derale coolers that come complete with necessary hose, fittings, an inline thermostat to activate the fan, and installation hardware.
Electra-Cool Remote Fluid Coolers
The Electra-Cool fluid coolers combine a high-capacity oil cooler core with a 10 inch diameter electric fan for maximum cooling. The coolers feature a core with 1/2 inch copper tubes and 3/4 inch aluminum fins, and come in eight- or 16-pass models with your choice of AN-type inlets and outlets. The fan is solidly mounted to the cooler core with clear anodized billet aluminum brackets, and the fins are protected with plastic edge guards.
Atomic-Cool Remote Fluid Coolers
The Atomic-Cool fluid coolers have a fin-and-plate design that provides the largest temperature drop of any of Derale's fan-equipped coolers and also minimizes pressure drop, even with high-viscosity oil. That makes them ideal for towing and off-road use. The Atomic-Cool fluid coolers have an eight inch diameter electric fan for optimum heat extraction regardless of mounting location.
Hyper-Cool Remote Fluid Coolers
These coolers have a stacked plate design with 25 rows of cooling capacity, making them some of the most efficient coolers available. The coolers have a 500 cfm electric fan with an aluminum shroud for maximum airflow through the core. Summit Racing also offers Derale's Hyper-Cool Extreme fluid coolers that feature a highly efficient 40-row stacked plate core and an 800 cfm electric fan with an aluminum shroud. That's heavy-duty cooling.
Summit Racing also carries Derale fluid coolers without fans, plus power steering coolers and heat sink-style transmission coolers.
Summit Racing Equipment
http://www.SummitRacing.com
1-800-230-3030