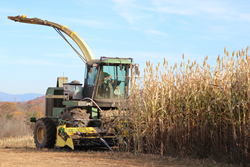 Being honored with a second ranking reaffirms the confidence the industry has in our products and services.
Vonore, Tenn (PRWEB) July 09, 2015
Genera Energy, Inc., a leading biomass supply company, has been ranked the eighth "hottest company" worldwide in Feedstock Development and Supply by Biofuels Digest. The rankings, which recognize innovation and achievement in feedstock development, production, and supply, were announced in June at the first annual Advanced Bioeconomy Feedstocks Conference. Genera was the top biomass supply chain management company in the entire ranking.
"Genera Energy is pleased to be designated as one of the top feedstock companies in the Advanced Bioeconomy," said Sam Jackson, vice president of business development for Genera Energy, Inc. "We believe this reflects our commitment to innovation and excellence in the products and services we provide to our customers."
Biofuels Digest's selection process incorporated an international selection panel, with a focus this year on feedstock and the key role it plays in deployment of the Advanced Bioeconomy. Selection was based on companies who have successfully combined action, credibility, and visibility in the impact they have on the bioenergy and bioproducts industries. Genera Energy was also recognized in November 2014 by Biofuels Digest on its Hot 40 list (ranked number 22). The latest ranking reaffirms Genera Energy's place of excellence in biomass supply chain management.
"Being honored with a second ranking reaffirms the confidence the industry has in our products and services," said Jackson. "Our supply chain management services continue to support the growth and success of our clients in the bioeconomy, and together we are advancing a sustainable future."
For more information on Biofuels Digest Hot Lists, visit http://www.biofuelsdigest.com/bdigest/2015/06/10/the-35-hottest-companies-in-feedstock-development-supply-in-the-advanced-bioeconomy/
About Biofuels Digest
Biofuels Digest is the world's most widely read biofuels daily. The Miami, Florida-based online magazine and email newsletter published more than 4,000 news stories on bioenergy in 2012, and serves 133,000+ newsletter, website readers and social media followers in every UN-recognized country. For more information, visit http://www.biofuelsdigest.com.
About Genera Energy, Inc.
Genera Energy Inc. supplies biomass feedstocks for the advanced bio-based industries, offering scalable industrial scale agriculture biomass supply solutions ranging from full service energy crop production to customizable supply chain solutions and managing biomass supply. Genera's proprietary Supply ASSURE® feedstock management system and its BIN-SPEC® material handling and milling system offer Genera's customers maximum feedstock reliability and quality while minimizing variability and cost. Based in Vonore, Tenn., Genera operates the country's largest and most comprehensive industrial biomass management and processing facility. Focus on innovation and sustainability in delivering industrial biomass supply systems has earned Genera the World's Biofuels Market's prestigious 2013 Sustainable Feedstock Innovation Award. For more information, visit http://www.generaenergy.com.
###
For additional information, contact:
Heather Ripley
Ripley PR
hripley (at) ripleypr (dot) com
865-977-1973