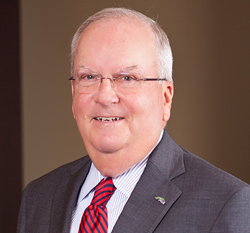 We look forward to what he can help us achieve and how his vast experience across multiple sectors can benefit our clients.
Knoxville, TN (PRWEB) July 09, 2015
PYA, a national professional services firm specializing in healthcare and business management consulting, tax, audit, valuation services, and public policy, has announced that Larry Felts is the latest Principal to be named to its executive team and will serve clients from the company's Nashville office. Felts brings substantial experience to PYA, having spent most of his career with two "Big Four" accounting firms, KPMG and PricewaterhouseCoopers (PwC).
Felts' experience augments the broad-based, multi-disciplinary expertise of PYA. His professional career includes work with clients in various sectors of the business community, such as Security Exchange Commission (SEC) entities, both public and secondary offerings; financial institutions; retail and distribution; higher education and not-for-profit entities, including church-related and governmental entities; manufacturing; and privately held businesses.
At PYA, Felts will play a key role helping Middle and East Tennessee businesses navigate the ever-changing complexities of internal financial controls, financial management, and regulatory compliance. Felts' vast experience, enthusiasm, and earnest desire to engage PYA's less-senior associates will provide further resource and value to PYA's current and future client relationships.
PYA CEO Ed Pershing said, "I have known Larry personally for many years and can attest that he is dedicated to helping individuals and firms grow and be successful. His reputation for building loyal business associations aligns with PYA's approach, as we also share a desire for building trusted, long-term relationships. His track record reflects many successes. We look forward to what he can help us achieve and how his vast experience across multiple sectors can benefit our clients."
"I have watched PYA's tremendous growth over the last three decades and am excited to take the next step in my career with the Firm to further its mission of providing timely insight and world-class strategic support to its clients," said Felts. "Assisting clients from the Nashville office, I will be able to help expand our footprint and service offerings in a rapidly growing and diverse business market."
Felts graduated from the University of Tennessee-Knoxville (UTK) with a Bachelor of Science degree in Accounting and subsequently enrolled in partner development courses at Dartmouth College Tuck School of Business and the University of Virginia Darden School of Business. A certified public accountant since 1976, Felts worked for KPMG for nearly two decades including as a partner in Nashville and Office Managing Partner (OMP) in Knoxville. He then spent another decade as a partner with Coopers Lybrand and successor PwC in Knoxville and as OMP in its Knoxville and Nashville offices.
PYA President Marty Brown said, "Larry hired me at KPMG years ago, and I have been privileged to see him provide extraordinary client service!"
Felts' community and professional affiliations include the Tennessee Society of Certified Public Accountants (TSCPA), where he served with various committees; the American Institute of Certified Public Accountants (AICPA); Chancellor's Associates and 1914 Society of UTK; United Way of Greater Knoxville Board of Directors; President and Board of Directors of Junior Achievement of East Tennessee; Non-Profit Management Center Board of Directors; President and Charter Member Nashville Breakfast Exchange Club; Charter Board of Directors, Exchange Child Abuse Prevention Center; and Advisory Board of Directors, Nashville Capital Network.
About PYA
For more than three decades, Pershing Yoakley & Associates (PYA) has provided timely insight, strategic support, and exceptional professional service, helping clients thrive in the midst of rapid change. PYA was named to INSIDE Public Accounting's 2014 list of the fifty "Best of the Best Accounting Firms" and is ranked by Modern Healthcare as one of the nation's largest privately held healthcare management consulting firms. For more information, visit http://www.pyapc.com/.