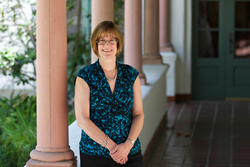 Claremont, CA (PRWEB) July 08, 2015
Lori Bettison-Varga, president of Scripps College since 2009, will leave her post this fall, Scripps College announced today. Bettison-Varga has been named President and Director of the Natural History Museum of Los Angeles County, pending approval by the Los Angeles County Board of Supervisors.
"President Bettison-Varga has led the College with distinction over the past six years, building on a legacy of academic excellence, launching ambitious new strategic initiatives, and enhancing our national and international profile," said Mark Herron, Chair of the Scripps College Board of Trustees.
"While President Bettison-Varga's departure represents a loss for the Scripps community, the Board congratulates her on her new role leading one of Los Angeles' most prestigious cultural institutions. We know the Natural History Museum will benefit from her passion for education, science, and civic and community engagement, just as we have at Scripps College," Herron said in a message to the Scripps community.
During her six-year tenure, President Bettison-Varga advanced Scripps College's reputation as a superior liberal arts college and a leader in women's education. Student applications increased 20 percent, resulting in a more selective admission process; the College launched an ambitious $175 million campaign with $115 million raised to date for strategic priorities including scholarships, new facilities, and the LASPA Center for women's leadership development; and Scripps has recorded a budget surplus each of the past six years while the endowment per student has grown more than 15 percent.
"I've enjoyed working with President Bettison-Varga, and I know the Scripps community will miss her passion and enthusiasm," said Scripps College trustee Jean Bixby Smith. "At the same time, I eagerly anticipate the positive impact she will have on one of Los Angeles' most important cultural institutions, and I congratulate the Natural History Museum on selecting a tremendous leader."
Scripps College is consistently ranked in the top tier of national colleges by U.S. News and World Report, the Princeton Review, Forbes, and Business Insider, among others. Scripps is ranked seventh among U.S. colleges producing the greatest number of Fulbright scholarship award winners.
The Board of Trustees has appointed Amy Marcus-Newhall, vice president for academic affairs and dean of faculty, as interim president effective mid-October. Marcus-Newhall will work closely with the president to manage the transition until her departure.
"It has been an honor and privilege to serve Scripps College for the past six years and to support its legacy of foundational coursework in interdisciplinary humanities, distinctive capstone senior research experience, and its commitment to the liberal arts in its mission to develop future generations of women leaders," Bettison-Varga said in a letter to the Scripps Community.
Scripps College is a top-ranked liberal arts and women's college and a member of The Claremont Colleges in Southern California. The mission of Scripps College is to educate women to develop their intellects and talents through active participation in a community of scholars, so that as graduates they may contribute to society through public and private lives of leadership, service, integrity, and creativity.