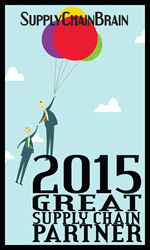 Building long-term relationships with our clients while delivering true value is our Team's number one priority. - Mark Brown, MEBC Principal
Reading, PA (PRWEB) July 09, 2015
MEBC, an independent consulting company specializing in supply chain advisory services and implementation of supply chain planning technologies, is honored to be named to SupplyChainBrain's 100 Great Supply Chain Partners list for 2015. This recognition adds to recent industry and peer acknowledgements of MEBC's services and outstanding professionals supporting clients across various industries.
Now in its 13th year, SupplyChainBrain's prestigious list of "100 Great Supply Chain Partners" highlights companies whose solutions and services have exceeded client expectations. MEBC received multiple nominations from clients who felt that the services they received were worthy of recognition from SupplyChainBrain. Competition for a spot on this list has grown more challenging with each year, and MEBC was one of hundreds of companies from every sector of supply chain management nominated by customers who felt that the solutions and services that they received made a significant impact on their company's efficiency and overall supply chain performance.
"Building long-term relationships with our clients while delivering true value is our Team's number one priority," said MEBC principal Mark Brown. "The fact that this honor was given to us as a result of multiple nominations from satisfied customers, makes earning it even more meaningful and a testament to the supply chain industry and technology expertise and dedication of our employees."
The entire MEBC Team is proud to be a part of this year's "100 Great Supply Chain Partners" list, and looks forward to adding to the company's list of more than 65 clients that have partnered with MEBC over the last 13 years. MEBC continues to look for innovative methods and tools to provide supply chain planning consulting and technology services for clients in the manufacturing, consumer packaged goods, and retail / wholesale distribution industry segments.
About MEBC
MEBC is an ESOP company of Supply Chain Thought Leaders and Technologists who align People | Process | Technology to drive our clients success. MEBC's employee-consultants bring practical knowledge of end-to-end supply chain processes with deep technical expertise in the SCM and ERP technologies that support them. MEBC has addressed the supply chain challenges of global Fortune 1000 and high-growth SMB companies along with Federal agencies. MEBC is also a premier JDA Software Alliance Partner – having received our fourth consecutive award from JDA for our innovation, technical expertise, and client services excellence.
MEBC. Supply Chain Advantage. DELIVERED.
To learn more, visit http://www.mebcglobal.com.