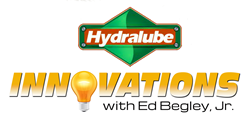 Lake Charles, LA (PRWEB) July 10, 2015
Hydra-Lube Inc. announced that they will be featured in an upcoming episode of Innovations, airing later this year via Discovery Channel. Dates and show times TBA.
Hydra-Lube Inc. has become a leader in Power Generation Services, specializing in (Electro Hydraulic Control), EHC Turbine Control systems, Phosphate Ester remediation and EHC Smart System Upgrades. This segment will educate audiences on its professional EHC Smart Systems and EHC System Flushing. These services include all turbines in the Power Generation Industry: Hydro, Nuclear, Gas and Fossil Turbines.
Hydra-Lube Inc. has become the leader in EHC Turbine control system reliability.
"The EHC Smart System is a complete system upgrade for understanding how your system is operating. The Smart system allows the end user to identify system problems and correct them before the Turbine Trips offline," said Gary Williams, CEO of Hydra-Lube, Inc. Gary continued to say, "the EHC System Flushing process is done to remove all foreign material from the system. Phosphate Esters and other Hydraulic fluids require maintenance that determines the reliability of the system, and Hydra-Lube has developed a flush process that can restore a 20-30 year old system back to a new condition."
"Hydra-Lube provides exceptional quality while maintaining an optimum safety record at a reasonable price," said Robert Sikich, Senior Producer for the series. "We look forward to enlightening viewers about their offerings."
About Hydra-Lube:
Gary Williams, Mike Enger and Chad Wright incorporated Hydra-Lube Inc. in July 2005. Hydra-Lube has a 26,000 sq ft. facility in Lake Charles, LA. Hydra-Lube performs EHC Flushes, cylinder repairs and fabrication. Its goal is to become the leader in the Power Generation Industry for EHC Services. For more information, visit: http://www.hydra-lube.net.
About Innovations and DMG Productions:
Innovations, is an information-based series geared toward educating the public on the latest breakthroughs in all areas of society. Featuring practical solutions and important issues facing consumers and professionals alike, Innovations focuses on cutting-edge advancements in everything from health and wellness to global business, renewable energy, and more.
DMG Productions (responsible for creating the Innovations show) includes personnel specialized in various fields from agriculture to medicine, independent films to regional news and more. Field producers work closely with experts in the field to develop stories. This powerful force enables DMG to consistently produce commercial-free, educational programming that both viewers and networks depend on.
For more information visit http://www.InnovationsTelevision.com or contact Robert Sikich at (866) 496-4065 x 805 or via email at Robert(at)InnovationsTelevision(dot)com.