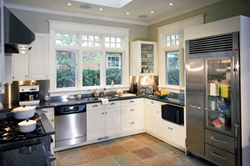 Los Angeles, CA (PRWEB) July 09, 2015
A kitchen can become the main room of the home for some families, and that is why so many homeowners like to have a new stylish kitchen. However, installing a new kitchen can be expensive and unaffordable for tens of thousands of people. According to CabinetDIY, RTA (Ready-to-Assemble) cabinets provide homeowners with an affordable option for a new kitchen.
A few years ago RTA cabinets was a term not many people knew about. But in recent years it has become wider known and helped homeowners to save a great deal of money on fitting a new kitchen. Many people looking to sell their home and increase its value use RTA cabinets as a more affordable option, giving them a stylish new kitchen for a fraction of the normal price.
RTA cabinets are cabinets that are sold straight out of the box. When they were first launched, they were aimed at people looking for a new kitchen on a budget. But now even though the prices are still low, they are aimed at people who want a new stylish kitchen that they can put together themselves.
When a person requires a new kitchen they go through the process of having their kitchen designed, buying the new kitchen and then paying for it to be installed, which makes purchasing a new kitchen very expensive. By using RTA cabinets, homeowners can remove these expenses by installing the new kitchen themselves.
A spokesman for CabinetDIY said: "RTA cabinets makes remodeling a new kitchen a more affordable option."
There are many reasons why consumers choose RTA cabinets over traditional custom made cabinets, below are just a few of them.
1. RTA cabinets can cost up to 30 percent less than traditional custom cabinets
2. Homeowners can fit their kitchen using RTA cabinets, removing the cost of a professional kitchen fitter.
3. RTA cabinets offer a huge choice in styles and designs at a fraction of the price
4. Customers can receive their RTA cabinets within 15 days or less while traditional custom made cabinets can take up to 45 days
CabinetDIY has become a leading supplier of RTA cabinets, and as such they offer a whole range of colors and styles. All cabinets are shipped to the customer's property with an option of pre-assembled or non-assembled with free nationwide shipping on orders over $1,800.
For more information on the new Classic White Cabinet Style or Ready to Assemble (RTA) Kitchen Cabinets, please visit CabinetDIY at http://www.cabinetdiy.com
To request a complimentary sample of CabinetDIY cabinets, please go to http://www.cabinetdiy.com/product/sample
About CabinetDIY
CabinetDIY was founded by a group of passionate interior designers and professional cabinet makers in 2004. It is their passion to assist customers in designing and building their dream interior projects. Anyone can find the perfect cabinet style to easily suit their taste on CabinetDIY.com. Their service facilities are located throughout the United States, and all of their cabinets are carefully assembled, tested and packaged by skillful workers. CabinetDIY's service goal is to minimize the consumer's work load after receiving their products.