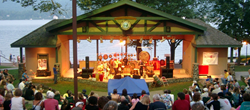 There are also many special events, concerts and festivals to round out your Lake George vacation.
Lake George, New York (PRWEB) July 17, 2015
Sure summer vacations in Lake George feature all the usual warm weather outdoor fun like swimming, boating, hiking, and cruises on the Lake; but there are also many special events, concerts and festivals to round out your Lake George vacation. Here's a rundown of this summer's events.
Shepard Park is located in the middle of Lake George Village right on the lake shore. In addition to a delightful beach and playground, a beautiful lakefront bandstand is home to summer concerts and family entertainment. All the Shepard Park events are free, and the park is just a 5 minute walk from the Georgian Lakeside Resort. See all the Shepard Park Events on The Georgian Resort website.
The Lake George Arts Project has a full calendar of free concerts at Shepard Park called the Summer Concert Series on Wednesday nights (7:30PM). In addition, the Arts Project is hosting a Blues and Roots Festival (August 1 & 2) in the newly minted Charles Wood Festival Space, and the Annual Jazz Festival weekend Sept. 19 & 20 in Shepard Park. For a complete schedule visit The Lake George Arts Project website.
The Charles R Wood Park (the former home of Gaslight Village) has been transformed into Lake George's premier event and festival space, now dubbed the Festival Commons. A full slate of festivals, concerts and events will round out the Summer and Fall in Lake George. Here's a rundown: Queen's Great Craft Show, July 25 & 26 - Music, family entertainment, food and fun for all ages! Features hand crafted items by local and regional artists and artisans. All Free Admission. Aug. 1 & 2, Blues and Roots, see above. Aug. 8 & 9, The Queen of Lakes Festival featuring many local bands and the Glens Falls Symphony. Aug 15 & 16 British Music Invasion & Strand Theater Fundraiser. Aug. 20-22 is The Electric Love Festival. And rounding out the Summer concerts is the Arlo Guthrie 50th Anniversary Alice's Restaurant Tour. For more information and Tickets visit the new Festivals Commons website.
For classic music lovers The Lake George Music Festival features two weeks of concerts, August 17-27. The public can attend this series of live chamber music and orchestra concerts, children's concerts, open rehearsals, pre-performance workshops, and various outreach events. All events are offered with a "pay what you can" admission. Much more information at The LG Music Festival website
The Georgian Lakeside Resort is located within walking distance of all the major festivals and concerts and offers live music on the patio Thursdays and Saturdays, with the weekly Lake George Village fireworks every Thursday during the summer. Visit the Georgian Lakeside Resort website for much more information about Summer in Lake George and videos and audio clips of upcoming artists and concerts.