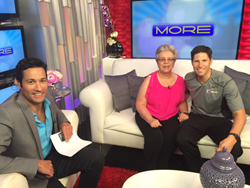 The fat was so restrictive, but now I can move more freely and do the things that I want.
Las Vegas, NV (PRWEB) July 13, 2015
Yvonne is a 71 year old who experienced life changing results after undergoing two separate liposuction procedures including her full abdomen/ waist and full thighs. She had 10 pounds of fat removed from her waist resulting in an 11 inch reduction. Since her procedures, she has experienced a 25 pound weight loss overall. She was featured on the FOX 5's "More Show" to discuss her experience and results.
Many people think that liposuction is simply for cosmetic purposes, but people like Yvonne are excellent examples of the many health benefits that are possible with liposuction. According to the American Society for Aesthetic Plastic Surgery, the removal of fat though liposuction can reduce the levels of bad cholesterol, decreasing the risk of diabetes, heart disease and stroke.
"The fat was so restrictive, but now I can move more freely and do the things that I want. I feel better and I think this has improved my overall health," Yvonne says.
According to ABC News, a new study reports that patients who get liposuction not only shed pounds but also lower their risk of heart disease and stroke. Researchers found that after liposuction there is a reduction in white blood cells, which are associated with heart attacks, obesity, strokes, and high blood pressure.
"This procedure was not just a cosmetic change, but a functional change," says Trevor Schmidt PA-C, the liposuction specialist and owner of MyShape Lipo. "After effectively reducing her waist 11 inches, it's now easier for her to move, to bend, to twist, simple things like going up and down the stairs or bending down to tie her shoes become easier. It's not always about the cosmetic issues, sometimes the health and mobility benefits far outweigh the cosmetic benefits."
Everyday activities such as walking or going up and down stairs were becoming increasingly more difficult for Yvonne, "My health was my biggest concern," Yvonne says. "After just a few short steps, I'd become short of breath, and it was beginning to really worry me."
Now retired, Yvonne worked as a nurse for 45 years and dedicated her time caring for others while simultaneously neglecting herself. "It was time to do something for me," Yvonne said. "If I'm changing my life, I'm doing a whole new life." Yvonne chose to get nearly full body liposuction including her entire waist in addition to her full thighs, effectively changing her entire shape.
"I'm blown away, " says Yvonne. "None of my pants fit anymore, I'm more active than I've ever been and more importantly I feel better about myself."
Yvonne is now able to enjoy the hobbies she once did before the weight gain. "Not only am I able to walk the Las Vegas Premium Outlets without breaking a sweat, but my husband and I now go out dancing every Saturday night, it's definitely put a kick start back in our marriage."
According to the American Society for Aesthetic Plastic Surgery there is no age limit for liposuction safety or effectiveness in removing fat. If you are generally in good health and you have fat that bothers you, then you are a good candidate for liposuction.
"I'm ecstatic for Yvonne and her amazing body transformation," says Schmidt. "Her results are amazing, and I'm glad I could play a role in this life changing journey she is on."
About MyShape Lipo
Located in Las Vegas, MyShape Lipo is a specialty liposuction clinic who attracts patients from around the world. Trevor Schmidt PA-C, the liposuction specialist has the experience of over 15,000 liposuction procedures on all shapes and sizes. All of their procedures are completed with local anesthesia for a safer more cost effective procedure. They offer complimentary "Body Shape Analysis" in person for locals or via the phone for their out of state patients. Call now to schedule yours, 702-818-5476.