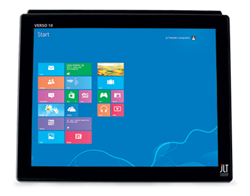 "We are seeing more demand for rugged mobile computers."
Oakdale, MN (PRWEB) July 16, 2015
Supply Chain Services announces the sale of one of the first JLT VERSO+ 10 rugged vehicle-mount terminals (VMT) in the United States for a warehouse forklift materials handling application. Supply Chain Services is a leading provider of JLT rugged mobile computers.
JLT Mobile Computers, is extending the performance of the VERSO rugged computers already shipping, by providing even more computing power in the most compact and robust form-factor. Equipped with a 10-inch XGA display and a scratch resistant multi-point touch screen, the VERSO+ 10 provides leading performance in the industry's smallest rugged tablet form factor.
According to a recent survey by Peerless Research and Supply Chain Services, rugged devices are the fastest growing technology for materials management applications. The rugged VMT is the perfect choice for installations in tight cabins such as trucks, farm tractors, yard dogs or other small areas. It is a perfect data capture solution for ports (NAVIS certified), warehousing and freezer storage, forestry, mining and agriculture, especially when running a full Windows™ operating system is desired. Forklift mounted picking and put-away, workflow directed order processing, trailer load optimization, and crop management are a few of the applications made possible by this technology.
According to Supply Chain Services CEO Chip Emery, "We are seeing more demand for rugged mobile computers which can operate reliably and last for years in any warehouse or on any vehicle. Many of our customers need rugged computers that can withstand cold or hot temperature changes, severe vibration, dust, protection against food and other particulates, bumps, and water resistant which makes them ideal for use on forklifts and in trucks."
About Supply Chain Services
Supply Chain Services is a full service provider of barcode systems with IT support services to design and implement data collection solutions. The company specializes in designing and implementing rugged mobile computer, barcode scanner, barcode printer, and wireless networks to support supply chain processes within warehousing, distribution, manufacturing, and logistics organizations. Supply Chain Services is located in Oakdale, Minnesota and has over 2000 customers across North America. For more information, visit http://www.supplychainservices.com.
About JLT Mobile Computers
JLT Mobile Computers is a leading developer of rugged mobile computers for demanding environments. These PC-type computers are characterized by very high reliability in the face of moisture, dust, vibration, electromagnetic fields or extreme temperature – reliability that is required for use in areas such as transportation, warehousing/logistics, forestry, mining, automation, military and rescue vehicles. JLT has been listed on the NASDAQ OMX, First North, under the symbol JLT by Remium as Certified Advisor. For additional information, visit http://www.jltmobile.com.