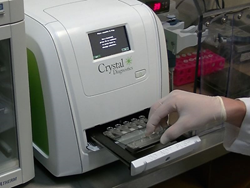 The CDx system promises advantages over other rapid Ebola detection systems, in terms of automated reader results, speed, and consistency.
(PRWEB) July 09, 2015
Crystal Diagnostics (CDx) has successfully detected live Ebola virus with its unique liquid crystal-based rapid pathogen detection system. Those tests were conducted at the University of Texas Galveston Medical Branch Biosafety Level 4 (BSL-4) facilities. Tests demonstrated detection at variable concentrations of live Ebola Zaire in serum samples in less than 20 minutes.
The CDx Xpress System combines proprietary liquid crystal technology with highly specific antibody-coated paramagnetic microspheres to selectively capture and detect Ebola virus faster than other commercial systems.
CDx sells rapid pathogen systems in the Food Safety market to quickly and accurately detect food borne pathogens in a variety of products including meat and produce. The company's systems are in use in commercial test labs, government agencies, universities, and research facilities, as well as food processors. The Ebola detection project is the first application outside of the food safety arena for CDx.
According to Robert F Garry, PhD, Professor of Microbiology and Immunology at the Tulane University School of Medicine, and Principal Investigator of the Viral Hemorrhagic Fever Consortium (VHFC), "The CDx system promises advantages over other rapid Ebola detection systems, in terms of automated reader results, speed, and consistency."
President and CEO of Crystal Diagnostics, Jim Bruce, stated that, "We are delighted with the initial results, and following field trials and US Food and Drug Administration device approval, we look forward to contributing to the fight against this deadly disease."
CDx has applied for grants from the Paul Allen Foundation and the Biomedical Advanced Research and Development Authority (BARDA) division in the U.S. Department of Health and Human Services to complete equipment automation and development of the Ebola test.
About CDx: Crystal Diagnostics was founded in 2006 and is the exclusive licensee of fundamental liquid crystal technologies developed through a research partnership between Kent State University and Northeast Ohio Medical University. For more information about the company or its Xpress Pathogen Detection System, contact CEO Jim Bruce at 720-351-4885 or visit the CDx web site http://www.crystaldiagnostics.com.
Critical reagents used in the CDx test were supplied by the Viral Hemorrhagic Fever Consortium, or "VHFC" (http://www.vhfc.org). The VHFC reagents were developed with the support of the National Institute of Allergy and Infectious Diseases of the National Institutes of Health ("NIH/NIAID"). VHFC members Autoimmune Technologies LLC and Zalgen Labs LLC manufacture the critical reagents.