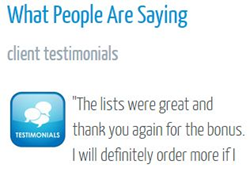 Expect Amazing Results Each Time you Send A Campaign
Orange, California (PRWEB) July 09, 2015
OfficialEmailMarketing.com is celebrating today and proudly announces their new bulk email Daily Data Feed. The Daily Email Feed provides its subscribers with fresh emails daily for use in email marketing campaigns. This new approach to Email Marketing allows a company or individual email marketer to fully automate their email campaigns and acquire an ongoing email data feed for use in their highly acclaimed bulk email software. OfficialEmailMarketing.com is a veteran in the email marketing industry and was first founded in March 2010 and provides bulk email services that are 100% can-spam compliant and will always represent your company, product or service in a professional manor.
http://www.OfficialEmailMarketing.com has become a one stop shop for all your email marketing needs. The Official Email Marketing Web-based bulk email software cannot be compared to any other software. Official in a high volume email marketing company and will not cancel or close campaigns like some other competing Bulk Email Software companies.
The official web-based bulk email platform is completely online and there is nothing to download or install onto your computer you can simply log into your online software account from anywhere and manage, send and monitor your email marketing campaigns. A dedicated software support staff to answer any questions is available daily.
Visit: Official Bulk Email Data Feed website to learn more about the daily bulk email data feed.