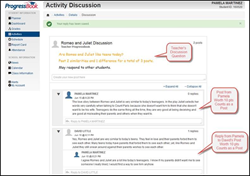 Our current release helps to close the gap between student/classroom and learning management to facilitate greater efficiencies and 21st century educational practices district wide.
Cleveland, OH (PRWEB) July 09, 2015
Software Answers, Inc., a premiere provider of web-based software for K-12 student, classroom and district management, has announced the release of a new version of ProgressBook Suite (15.0), which includes many enhancements spanning the family of integrated solutions.
"At a time when schools are under increasing pressure to monitor and improve student performance while containing costs, districts can no longer afford to operate a multitude of stand-alone technology solutions," said Paul Chaffee, CEO of Software Answers. "Our current release helps to close the gap between student/classroom and learning management to facilitate greater efficiencies and 21st century educational practices district wide."
For districts and administrators, ProgressBook's enhanced integration capabilities and ground-breaking innovations, including electronically-stored and delivered student Report Cards, offer numerous opportunities to save money and improve efficiency. By eliminating printing and mailing costs associated with issuing report cards three to four times each school year, for example, a district can potentially save tens of thousands of dollars annually. Advancements in student information and management also make it easier for districts to capture student data by 'family groups', thus eliminating redundant data entry and improving data consistency from building to building.
For teachers, ProgressBook 15.0 strengthens integration between the Suite to streamline workflows and improve instruction, both in and out of the classroom. Encouraging student engagement and interaction around specific online lessons, a new learning management system (LMS) enhancement, for example, enables teachers to create, manage and grade student discussion activities all from within their standards-based GradeBook solution. Additionally, a new 'Multiple Measures' comparison screen, available to subscribers of ProgressBook's data analytics tool, gives educators a view of student scores spanning multiple years and for multiple state assessments, allowing them to analyze academic performance over time.
For parents, ProgressBook continues to encourage parental involvement and meet the communications preferences of today's families with its award-wining classroom-to-home website. Giving parents the ability to update contact information – such as cell phone numbers and email addresses – online, at any time throughout the school year, offers convenience to busy parents and also ensures that schools have access to accurate and up-to-date student contact data.
"ProgressBook 15.0 represents our ongoing commitment to serve the K-12 market with a solution that not only conforms to today's educational standards, but also meets the needs of the entire school community," Chaffee said. "Featuring a certified integrator partnership program, and an open API for easy integration with third party applications, ProgressBook continues to evolve as the one suite solution for school districts of all sizes and configurations," he added.
For more information on ProgressBook, visit ProgressBook.com.
###
About ProgressBook by Software Answers
ProgressBook is a suite of software solutions that support student/classroom management and academic achievement for K-12 school districts. ProgressBook Suite serves the entire school community — administrators, teachers, students and parents — with six fully-integrated modules. Used by more than 750 schools nationwide, including 71% of the Ohio public schools, ProgressBook Suite includes: StudentInformation, GradeBook, ParentAccess, SpecialServices, DataMap, and VirtualClassroom. Software Answers, developers of ProgressBook, is headquartered in Brecksville, Ohio, a suburb of Cleveland. For more information, visit http://www.ProgressBook.com.