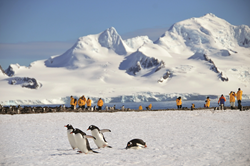 Seattle, WA (PRWEB) July 10, 2015
Quark Expeditions®, the world's leading polar expedition company, has announced new itineraries with a focus on activity-filled, but time-saving Antarctica fly and cruise voyages, to coincide with the launch of its 2016.17 Antarctic travel season and marking its 25th Anniversary.
Travelers in search of the ultimate Antarctic expedition have bountiful options for the upcoming season, including expanded fly/cruise itineraries, a popular, time-saving way to take in the same extraordinary seventh continent highlights offered on all Quark Expeditions® itineraries.
Highlights of this season include:

"South Georgia and area continue to be a fascinating draw for adventure travelers in search of an authentic, and diverse expedition experience," noted Andrew White, President.
"The wildlife encounters, and those once in a lifetime photography opportunities are unparalleled, as is the rich history of exploration of these regions. We are thrilled to be able to provide our passengers with more expedition options into such a remote, extraordinary part of the world."
Referred to as the "Galapagos of the Poles", the diverse wildlife on South Georgia includes 30 breeding bird species among the approximately 30 million birds that nest and raise their young on the island, as well as elephant, leopard and fur seals. Passengers will also have the opportunity to pay their respects at the graveside of Sir Ernest Shackleton at the Grytviken Whaling Church cemetery.
Each of the season's itineraries are crafted in the Quark Expeditions® tradition of providing innovative, unique polar travel experiences for adventurers of all ages, with safety always a top priority. With this expanded expedition line-up, travelers have the most varied selection of travel options to Antarctica – dates, itineraries, vessels and Adventure Options – than any other polar travel provider.
In addition to the seasoned on-board Expedition Leaders, passengers will travel alongside industry-leading experts in the fields of history, ornithology, marine biology, penguinology and much, much more. Ocean Endeavour passengers will receive the added expertise of the Scientists in Residenceprogram, which facilitates important research and conservation initiatives, as well as providing one of a kind passenger education.
Quark Expeditions® is offering up to 25% discounts on Antarctic 2016.17 bookings made by Sept. 30, 2015. Solo travelers on the Ocean Endeavour can also benefit from no single supplement on select cabins. Special offers are available on the website or by calling a Polar Travel Adviser at 888.892.0073 or +1.203.803.2666 outside North America.
Tweet: For 2016.17, checkout new @QuarkExpedition Antarctic expeditions & more ways to save! http://hubs.ly/y0Zv-Y0 #ExploreAntarctica
Post: Quark Expeditions® is excited to offer new Antarctic itineraries with our 2016.17 season launch, including new South Georgia and fly/cruise options. Learn more about our new Antarctic adventures and check out new ways to save! http://hubs.ly/y0Zv-Y0 #ExploreAntarctica
About Quark Expeditions®
Specializing in expeditions to the Arctic, Antarctic and sub-polar regions, Quark Expeditions® has been the leading provider of polar adventure travel for 25 years. With a diverse fleet of specially-equipped small expedition vessels, icebreakers, and unique land-based adventures, it offers travelers unparalleled access to the most remote places on earth. Led by passionate and seasoned expedition teams, including scientists, naturalists and researchers, the onboard program focuses on guest interaction to educate and enrich the passenger experience. The company is known for its unwavering commitment to safety and sustainability, and was the first to offer passengers — free of charge — carbon-neutral voyages in Antarctica aboard the Ocean Diamond.
– 30 –