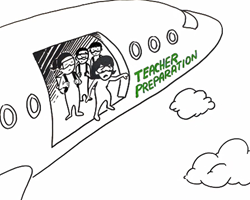 Kansas City, MO (PRWEB) July 10, 2015
Teachers setting high expectations and believing all students can measure up is a key to success in the classroom. That's according to Aaron North, Kauffman Foundation vice president of Education, who discusses the successes and shortfalls of teacher preparation in the latest installment of the Kauffman Sketchbook video series released today by the Kauffman Foundation.
North suggests that the best teachers share a fundamental belief that all students can learn and meet high expectations.
"We have the responsibility to prepare students adequately, to be creative, to be resourceful," North says in the two-and-a-half-minute animated video. "Every student deserves the opportunity to get a great education. That sounds very fundamental and it's something that's very easy for people to just agree with. However, actually believing that and holding yourself accountable for that is another story."
In "Beyond Belief," North recommends teachers learn from other teachers who are masters of their craft, leading classrooms where students are demonstrating great results in reading, math, writing, and science.
"There's an emerging understanding that practicing, being observed, being critiqued, and then practicing more is actually a great way to prepare teachers and to further develop them," North says
About the Kauffman Sketchbook Video Series
Since the Kauffman Sketchbook series launched in September 2011, the videos — featuring the insights of influential thought leaders in the areas of entrepreneurship and education — have drawn more than 400,000 online views. The award-winning pieces have been widely shared on a variety of websites, blogs and social media outlets, as well as at numerous conferences and events.
About the Ewing Marion Kauffman Foundation
The Ewing Marion Kauffman Foundation is a private, nonpartisan foundation that aims to foster economic independence by advancing educational achievement and entrepreneurial success. Founded by late entrepreneur and philanthropist Ewing Marion Kauffman, the Foundation is based in Kansas City, Mo., and has approximately $2 billion in assets. For more information, visit http://www.kauffman.org, and follow the Foundation on http://www.twitter.com/kauffmanfdn and http://www.facebook.com/kauffmanfdn.